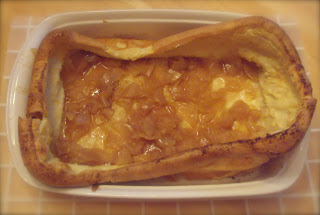 This here, is another way of saying, "Guess what, kids! We're having dessert for breakfast!"…And was also a tradition in my husband's family growing up. It's a bit time consuming, but well worth it! We love enjoying it for birthdays, holiday breakfasts and sometimes when we all just have a major sweet tooth.
Pancake Ingredients:
5T butter (to melt in bottom of pan)
6 eggs
1c All-purpose flour
1c milk
pinch of salt
*Featured above is my lovely Pampered Chef apple peeler which quickly
peels, cores and spiral slices the apple!
Preheat oven to 400*, cut butter into chunks and put in a 9×13 pan, melt the butter in the oven while it is preheating. In the mean time, make the pancake batter (keep an eye on that butter).
In a medium or large bowl, mix the eggs, flour, milk and salt. It will get super lumpy and thick. Just keep whisking! Sometimes I even use my blender for the pancake batter.
Take the pan out of the oven when the butter is just beginning to brown and sizzle. Pour the pancake batter into the center of the pan so the butter spreads evenly to all sides.
Carefully put it back in the oven. Bake for 25 minutes. (Towards the end of baking time, the sides of the pancake rise above the pan forming a puffy bowl-like shape, But don't be alarmed when it begins to deflate a bit after a minute or so…this is completely normal =)
While the pancake is baking, make the sauce:
Sauce Ingredients:
1/2c white sugar
1T corn starch
1tsp ground cinnamon
dash of salt
2T butter
1c boiling water
1/4 tsp orange extract
1 tsp vanilla extract
3 large Granny Smith apples, peeled and sliced (other apple varieties will work, but just like a good apple pie, the tart ones are best)
In a medium or large sauce pan, stir together the sugar, corn starch, cinnamon and salt.
Add butter and boiling water and bring the whole mixture to a boil, stirring constantly, until sauce begins to thicken.
Fold in the sliced apples until covered in sauce. Lower heat. Cover and simmer for about 15 minutes or until the apples are tender.
Remove sauce from the heat and stir in the vanilla and orange extracts.
The sauce can be poured directly into the puffy pancake or on individual slices.
*For my family of 6, we double the whole recipe!
*Leftover sauce goes great over a toasted English muffin!
*Hope you're not on a diet today 😉
Source: Adapted from Masterpieces From Our Kitchen: Virginia, MN High School Choir 1999