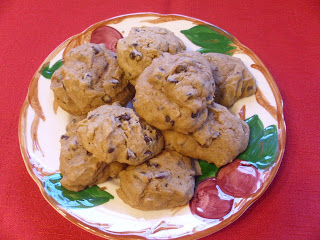 These cookies are nummy and nostalgic.
They remind me of many fall things – raking leaves and jumping in them, hay rides, the crunch of a fresh picked apple, football games, the harvest, the way the air smells in the late afternoon, and of course, watching – It's the Great Pumpkin Charlie Brown. Families stopped what they were doing to watch this. Friends came over because this was something to enjoy. It only came on once. There was no such thing as a DVD or a DVR. If you missed it you missed it.
In honor of The Great Pumpkin – Enjoy.
If your not a fan of pumpkin this works well with pureed Sweet Potatoes or Carrots.
Ingredients:

1 cup butter

2 cups packed brown sugar

2 eggs

2 cups canned pumpkin

1 teaspoon vanilla

2 tsp baking powder

2 tsp ground cinnamon

1 tsp baking soda

1 tsp ground nutmeg

4 cups all purpose or whole wheat flour (if you grind your own wheat, soft white works best)

2 cups mini semi sweet chocolate chips

1 cup chopped walnuts or pecans (optional)
1. Pre-heat oven to 375

2. In a mixing bowl beat butter for 30 seconds.

3. Add brown sugar and beat until fluffy.

4. Add eggs, pumpkin, and vanilla; beat well.

5. Add dry ingredients and chocolate chips beating until well combined.

6. Stir in nuts if using them (Dough will be soft.)

7. Drop dough from a teaspoon 2 inches apart onto a greased cookie sheet.

8. Bake in a 375 oven for 8-10 minutes.

9. Cool on wire rack
Source: Adapted from Better Homes and Gardens