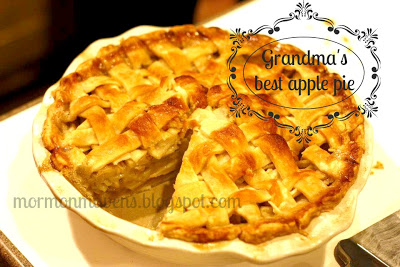 There once was a girl who liked making pies
But all of those years she could not devise
how to make the perfect pie crust
or apples that would not turn to mush
Until by chance she tried a new way
different from any she'd made up to that day
It turned out superb to her great relief
she conquered the pie that had given her grief.
Perfect Pie Crust
12 Tbsp. very cold unsalted butter
1/3 c. very cold vegetable shortening
3 C. flour
1 tsp. kosher salt
1 Tbsp. sugar
6-8 Tbsp. ice water
Dice the butter and return to the fridge or freezer while preparing the other ingres. Place the flour, salt and sugar in a food processor. Pulse a few times. Add the butter and shortening. Pulse 8-12 times til butter is the size of peas. With the machine running, pour ice water down the feed tube and pulse the machine until the dough begins to form a ball. Dump out onto a floured surface and roll into a ball. Wrap in plastic wrap and refrigerate it for at least 30 mins.
The recipe says it is for a double crust pie, but it actually makes enough for 3 single crusts, depending on how thick you roll it.
Grandma's Best Apple Pie

(from All Recipes. Link here)
1 recipe pastry for a 9 inch double crust

3 tablespoons all-purpose flour

1/2 cup packed brown sugar

1/2-1 tsp. cinnamon (opt.)

8 Granny Smith apples – peeled, cored
| | |
| --- | --- |
| | Preheat oven to 425 degrees F (220 degrees C). Melt the butter in a saucepan. Stir in flour to form a paste. Add water, white sugar, brown sugar, and cinnamon (if using) and bring to a boil. Reduce temperature and let simmer. |
| | Place the bottom crust in your pan. Fill with apples, mounded slightly. Cover with a lattice work crust. Gently pour the sugar and butter liquid over the crust. Pour slowly so that it does not run off. |
| | Bake 15 minutes in the preheated oven. Reduce the temperature to 350 degrees F (175 degrees C). Continue baking for 35 to 45 minutes, until apples are soft. |