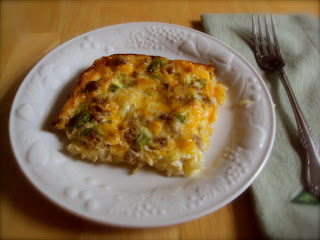 This is one of our favorite breakfast-for-dinner meals. Also nice for a holiday breakfast or brunch. Try your own meat and veggie varieties. It's yummy! P.S. I think I found this recipe in a Taste of Home Magazine about 10 years ago.
Forgive me if I'm mistaken.
Ingredients:
4c shredded hashbrowns, thawed and squeezed dry with paper towels
5T butter, melted
…………………..
1/2 lb Jimmy Dean (regular) bulk ground sausage, crumbled and cooked
1/2 c diced green pepper
1T dried onion
1 c (or more) shredded cheddar cheese
…………………..
4 eggs
1c milk
1/4 tsp pepper
Salt to taste (I will omit the salt if I use bacon instead of sausage)
Preheat oven to 425* for baking the crust (you'll change it for the quiche)
Make sure as much of the moisture as possible is soaked out of the hashbrowns to make a nice crispy crust.
Press the hashbrowns into the bottom of a 9×13 pan and drizzle with melted butter and bake at 425* for 25 minutes.
While the crust is baking, prepare the filling. Mix the meat, peppers, cheese and onions in one bowl. Mix the eggs, milk, salt and pepper in another bowl.
When the hashbrown crust is done baking, change the oven temperature to 350*.
Pour the meat mixture into the pan and spread evenly over the crust. Then pour the egg mixture over the top.
Bake at 350* for 25-30 minutes. Cool 10 minutes before cutting and serving.
*We like to serve ours with a side of salsa…but we're big fans of salsa… =)