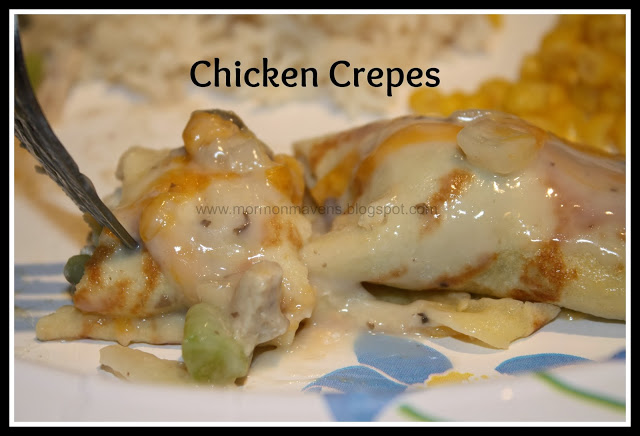 This recipe originates from an old ward cookbook. I have added a couple of additional ingredients that we like. If the thought of making your own crepes then filling them and then baking them may seem like too much work, don't worry. I promise I wouldn't do it if it was too hard and if it wasn't totally worth it! I have typed this out in detail, so don't be afraid of it. This process moves fast. These are really delicious. Enjoy!

Step 1: Chicken
Boil 3-4 chicken breast. You will need about 2 c. of chicken. While this is cooking, begin cooking your crepes.


Step 2: Crepes
1 -1/4 c. a.p. flour
3 eggs
1 c. milk, we use 1%
1/4 c. water
1/2 tsp. salt
3 tbsp. melted butter

I use my smallest skillet for this. Its smaller than a salad plate, but not by much.
Preheat your skillet on medium low heat and then spray generously with nonstick cooking spray. Spray up the sides too. Then spoon in about 2-3 tbsp. of the batter and immediately tip it and turn it until it spreads all around the pan and its very thin. Cook about 1 minute on each sides. You don't want to brown it. It should be very soft. It should look like a light tan color. Remove it from the pan and continue the process until. you've used all of your batter.
Step 3: Filling
1 (10- 1/2oz.) cream of mushroom soup
1 tbsp. onion, minced
1-2 tbsp. celery, minced
chopped or shredded chicken
m
Mix all of the above ingredients in one bowl really well.
Step 4: Assembly
Preheat oven to 375 degrees. Spray non-stick cooking spray on a 9×13 baking dish. Place 2 -3 tbsp. of the filling on one edge of the crepe and roll up like and enchilada. Place seam side down on the baking dish. Continue this process until the crepes are all filled.

Step 5: Topping
1 can cream of mushroom soup
1 cup sour cream, or 1/2 cup of milk
cheddar cheese

Mix this together the soup and the sour cream, or milk. Then spoon evenly over the crepes. Sprinkle the cheese over top. Bake at 375 degrees for 20 minutes.

These are so delicious. My family wipes out the entire 9×13 dish full! Enjoy!


Adapted from an original recipe by Wendy Starks. Thank you Wendy!