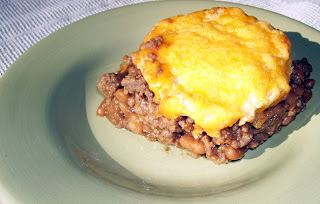 I made this hearty dish for a "Girls Night In" I hosted a few weeks ago and everyone seemed to like it (because a few actually said so). I recommend sides that go well with BBQ–like broccoli slaw and potato salad.
Ingredients:
1 lb. ground beef
1 t salt
16-oz. can pork and beans
3/4 C Kraft BBQ sauce
2 T brown sugar
1 T instant minced onion (I used dehydrated)
1 can flaky biscuits
1 C grated cheese (I used cheddar)
1. Preheat oven to 375. Brown beef; drain. (Remember not to pour the grease down your sink!)
2. Stir in salt, beans, BBQ sauce, sugar, and onion. Heat until bubbly; pour into a 2-quart casserole dish.
3. Cut biscuits in half. Place cut side down around edge of casserole.
4. Sprinkle with cheese. Bake until biscuits are golden (20-30 minutes).
Source: my mom