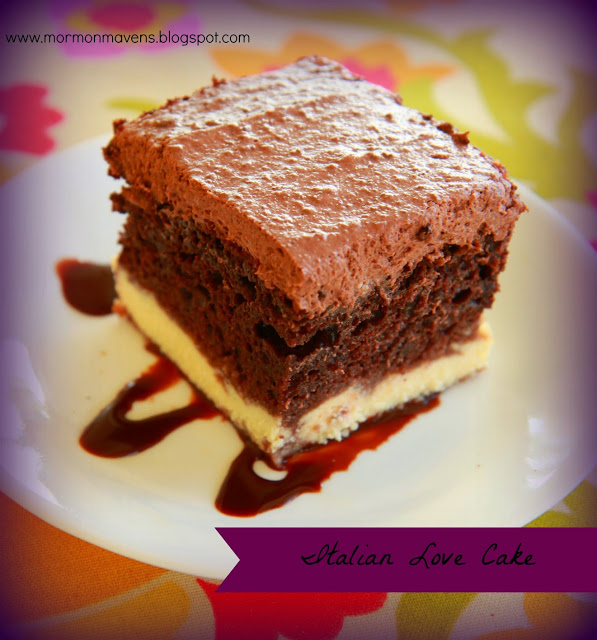 When I think about what cooking was like before the internet, I feel flabbergasted (and old) by how different my culinary experience is. When I went to college, I took my little 3×5 card file with a few of my favorite recipes that I hand copied from my Mother's stash. Now you can find any recipe complete with reviews and ratings. Pinterest has also been a great source and that is where I found this little gem. Dare I say life-changing? I just might. This is an easy cake that looks and tastes very impressive! You can play with the flavors by changing the cake mix base, but Chocolate is still my favorite. The interesting thing about this cake is how the layers trade places while it cooks. A little bit of culinary magic.
Italian Love Cake
Ingredients:
1 package chocolate cake mix with all other ingredients to prepare according to package (most sites recommend Betty Crocker Brand)
2 lbs. ricotta cheese
4 eggs
¾ cup sugar
1 tsp. pure vanilla extract
1 package instant chocolate pudding mix (5.1 oz.)
1 cup cold milk
8 oz. Cool Whip or other prepared whipped topping
Instructions
Preheat your oven to 350*.F Spray a 9×13 inch pan with nonstick cooking spray.
In a bowl, mix together cake mix according to the directions on the box. Set aside.
In another bow, using a hand mixer, beat together the ricotta cheese, eggs, sugar, and vanilla until smooth.
*The following directions are correct. The layers switch during the baking time!
Pour the cake batter into the prepared baking dish. Spread to fill the pan evenly. Once the cake batter is in place, carefully pour the cheese mixture evenly over the top of the cake batter. Spread to cover the cake batter.
Bake the cake at 350* for 1 hour. Remove from the oven and allow to cool completely.
Once the cake is cool, stir the pudding mix and milk together with a whisk until combined. Carefully, fold the Cool Whip into the pudding until combined.
Spread the pudding mixture over the top of the cooled cake. Cover the cake and refrigerate at least 6 hours before serving. It tastes even better the next day.
Source: www.inspiredreamer.com