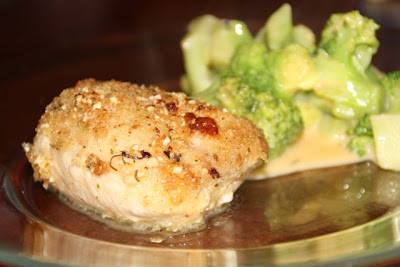 This take on parmesan crusted chicken comes out wonderfully juicy every time. It is delicious on it's own or on a bed of pasta and marinara sauce. Use bone-in chicken thighs, or go boneless and skinless, it works well with both. Just mind the cooking time for boneless.
Serves: 4-6
Ingredients:
1/2 C. margarine or butter
1 garlic clove, minced
1 C. dry bread crumbs
1/4 C. grated parmesan cheese
1/2 C. finely chopped almonds
2 T. chopped fresh parsley (or dry)
1 tsp. thyme leaves
1 tsp. salt
1/8 tsp. pepper
6 chicken thighs
Directions:
1. Heat oven to 400 degrees F. In a 13×9 inch pan, melt margarine/butter with garlic.
2. In a medium bowl combine bread crumbs, cheese, almonds, parsley, thyme, salt, and pepper; mix well.
3. Dip chicken pieces in garlic butter, then coat with crumb mixture on all sides. (use the "shake n' bake method….Ziploc bags work great!)
4. Place skin side up in pan containing garlic butter. Bake at 400 degrees for *1 hour or until chicken is tender, basting occasionally with pan drippings.
*If you are using boneless, skinless chicken thighs, bake for 40 minutes.
Source: My collection of old family recipes