Christmas time! Oh what a wonderful time of year. But why does it seem that our list of "To-Do's" gets larger and we seemed more rushed to get the decorations up, the presents bought and wrapped, the certain foods made, the cookies delivered, etc, etc?
I am really trying to keep things simple in my life and to let go of what is superficial and, in the grand scheme of things, unimportant.
I love seeing beautifully decorated houses down to the table runner and goblets on the perfectly set table. Or the mantle decked out with all manner of color coordinated candles and ribbons and pine garland. I have dreams of buying and even making my own decorations to beautify my home during the holiday season. However, I am learning to give up on what I feel are society's expectations of me as a home maker during the holidays. I have mismatched Christmas decorations that are mostly gifts from when I was a teacher.
One thing I have done, is sewn handmade stockings for each member of my family. However, I still have some finishing touches to add to them, as well as my own stocking to make. A few Christmases have passed and I still don't have mine made. I am to a point where I am okay if another year passes and it is not made.
We recently returned from a trip to Hawaii. It was lovely. It was relaxing. It was calming. I know that Christmas is only a couple of weeks away, but I am feeling more calm and less stressed about getting "everything" done that I feel needs to be done. I am safe home with my children around me and that is what is most important to me!
While we were gone, I had my sister help make sure that Eve did her homeschooling. Everyday, Eve has a journal entry to fill in. Here is one that she did while I was gone. I was so happy and so touched when I read what she wrote and saw the picture that she drew. For a 6 year old girl whose Christmas list keeps growing, it was a bit surprising that she didn't talk about the presents or the advent calendar or the tree or the decorations or Santa.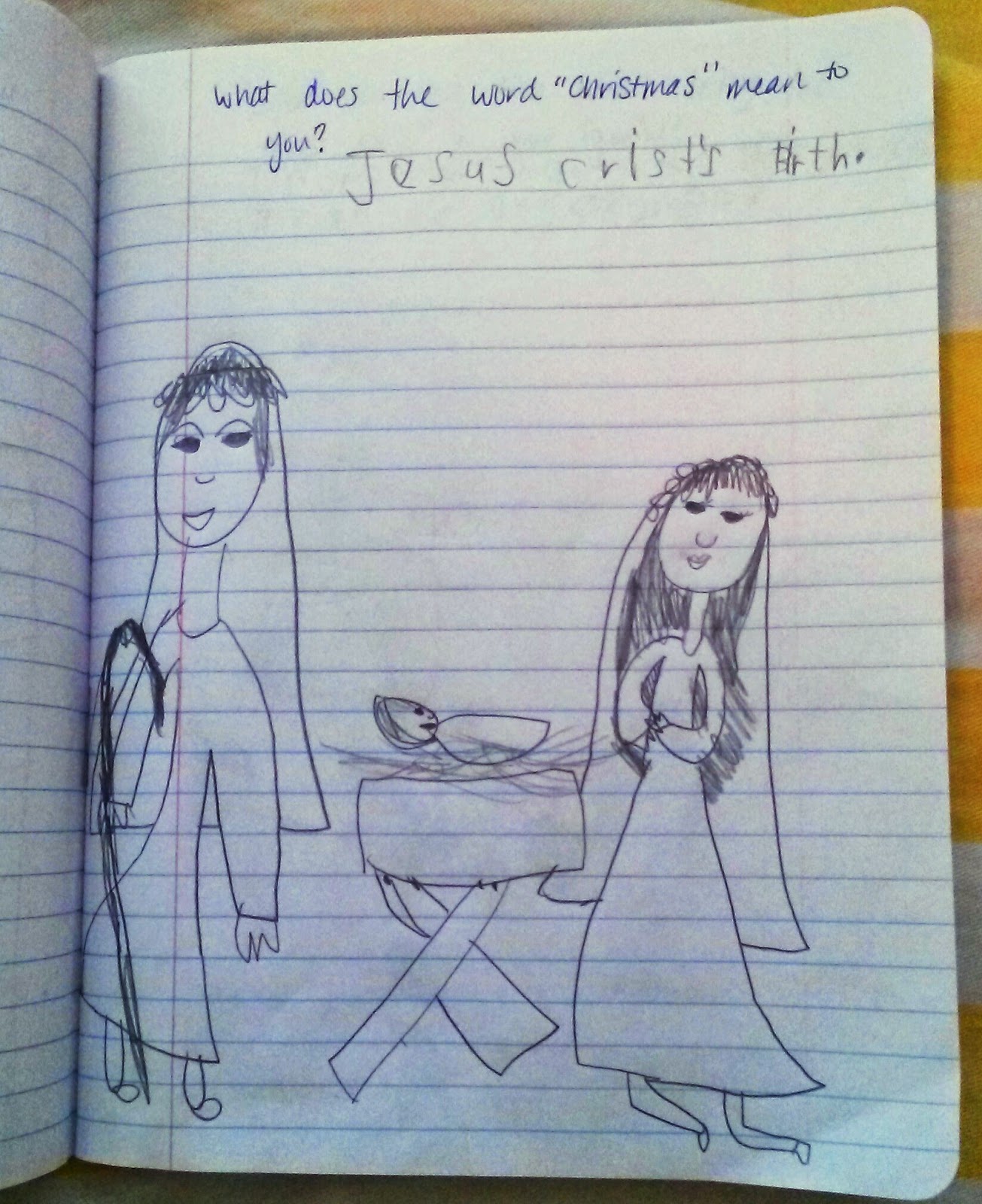 Because really the meaning of Christmas is to celebrate the birth of Jesus Christ. We are blessed to have the knowledge of our Savior and to have this time to reflect on the gift Heavenly Father has given us.
"When we keep the spirit of Christmas, we keep the Spirit of Christ, for the Christmas spirit is the Christ Spirit. It will block out all the distractions around us which can diminish Christmas and swallow up its true meaning."
-Thomas S. Monson
So, let us take a deep breath, don't worry about having the perfect decorations, don't rush around like a mad person trying to buy presents or cook gourmet food. Let us stop, slow down, simplify, and cut out the worldly distractions. Let us celebrate the Spirit of Christ this Christmas season.