I can never seem to get lasagna noodles to cook correctly. These lasagna cupcakes are made with wonton wrappers instead of traditional lasagna noodles. They are a great alternative and work well for individual servings and kid portions. This recipe is quick and easy, but I think it tastes better than traditional lasagna.
Ingredients:
Olive oil
One onion and a few cloves of garlic
1-1.5 pounds of ground turkey or beef
26-ounce jar of your favorite pasta sauce
Shredded mozzarella cheese
Shredded parmesan cheese
Directions:
Pre-heat oven to 350 degrees
Cut up the onion and garlic cloves and cook in olive oil until translucent.
Add the ground turkey and cook until no longer pink.
Add a jar of your favorite pasta sauce.
While the meat is cooking, grease the cupcakes pans with olive oil and press the wonton wrappers into the bottom on the pan. You can use square or circle wonton wrappers.
Add a layer of the meat and sauce.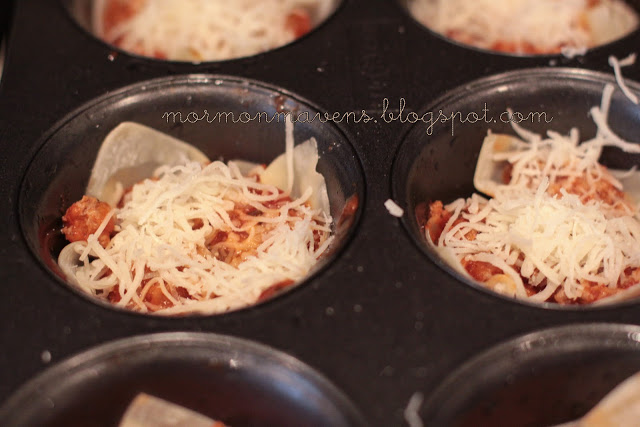 Then add a layer of the cheeses. I simply sprinkle a little of each.
You could also add ricotta to the cheese mix. If you do this, mix the three cheeses in a bowl and spoon the mixture in for the cheese layer.
Add another layer of the meat sauce and a layer of the cheese.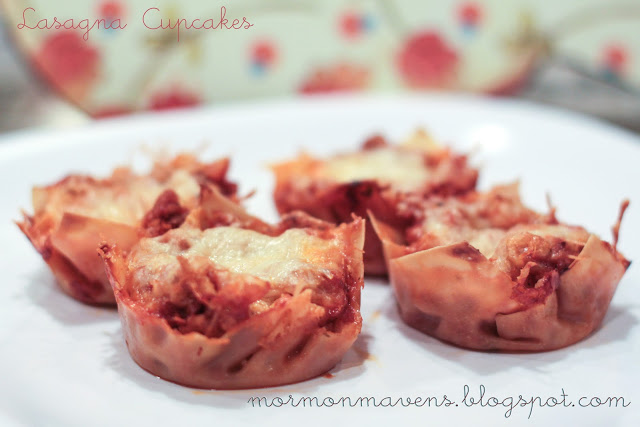 Bake at 350 degrees for 18-20 minutes or until sauce and cheese are bubbly.
Notes:
Makes 24-30 cupcakes.
Let them cool for at least five minutes before removing them for the pan or they will not hold their shape.
Any part of the wonton wrapper that is not covered by the lasagna mix will be crunchy so make sure they are completely covered or pushed into the mix.
You can substitute the meat for veggies sautéd in olive oil and pasta sauce.