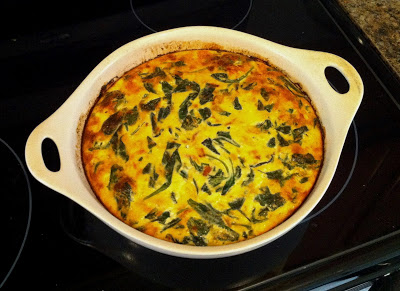 In honor of an overnight stay from my mother, I would like to dedicate this quiche to her. My husband and my dad have not, and will never enjoy one bite of a quiche. "Bless their hearts." Since the boys were out of town and I was cooking for just my mom and myself, I decided to make her favorite and alter the ingredients (just a bit) for a lower fat version. By lower fat, I mean that there is no crust.
Ingredients:
5 eggs
1/2 cup skim milk (because that's what we keep in the fridge)
1 cup ricotta cheese (you may use part-skim if you prefer)
1/2 cup Swiss cheese
6 slices bacon, cooked and crumbled
Half of an onion, chopped
6-ounce bag of baby spinach
Directions:
Preheat oven to 375 degrees. Spray a 9-inch pie plate with nonstick spray.
Cook bacon in a pan until done and crisp. Reserve about 2 tablespoons of bacon grease.
Saute onion in grease until tender, about 5 minutes. Add spinach and continue cooking until just wilted and liquid is evaporated, 3-4 minutes. Remove from heat.
Whisk eggs in a bowl until lightly beaten. Add milk and ricotta and whisk until incorporated.
Stir in spinach mixture, Swiss cheese and bacon until combined.
Pour into greased pie plate. Bake until top, center is golden brown and a knife inserted into the center comes out clean, 35-45 minutes.