Why clean the kitchen, even if you did mess it up? Why not just make a deal with your 12-year-old son that if he'll clean it all up, you'll make a treat? Then, while he's cleaning, go rummage through your stash of clipped recipes in search of a new chocolate adventure. Not that I'm saying that's what I did, but, yeah….that's what I did. The result? This yummy cake.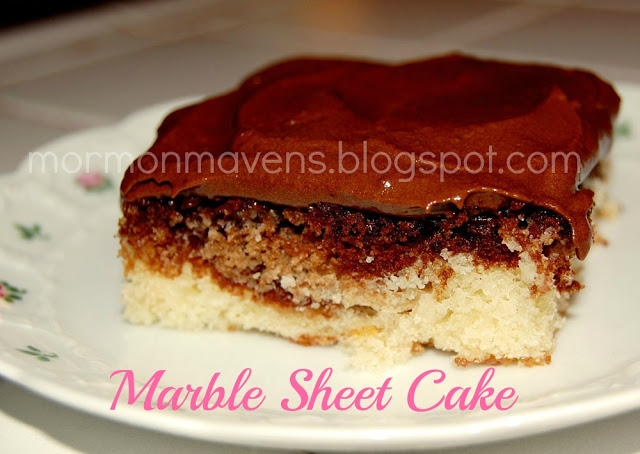 Ingredients:
Cake
2 sticks butter, softened
1 3/4 cups sugar (DIVIDED)
2 large eggs
2 tsp. vanilla
2 1/2 cups flour
1 Tbsp. baking powder
1/2 tsp. salt
1 cup half-and-half
1/4 cup unsweetened cocoa
3 Tbsp. hot water
Frosting
1 stick butter, softened
3 cups powdered sugar
2/3 cups unsweetened cocoa
3 Tbsp. hot water
2 tsp. vanilla
3 to 4 Tbsp. half-and-half
1. Preheat oven to 325 degrees. Beat butter and 1 1/2 cups sugar at medium speed for 4 to 5 minutes or until creamy. Add eggs, one at a time, beating just until combined after each addition. Beat in vanilla extract.
2. Sift together flour, baking powder, and salt. Add to butter mixture alternately with half-and-half, beginning and ending with flour mixture. Beat at low speed just until blended after each addition, stopping to scrape bowl as needed.
3. Spoon 1 1/4 cups batter into a 2-qt. bowl, and stir in cocoa, 3 Tbsp. hot water, and remaining 1/4 cup sugar until well blended.
4. Spread remaining vanilla batter into a greased and floured 15×10 inch jelly roll pan. Spoon chocolate batter onto vanilla batter in pan; gently swirl with a knife or small spatula.
5. Bake at 325 degrees for 25-30 minutes or until a wooden pick inserted in center comes out clean (be careful NOT to overbake!). Cool completely in pan on a wire rack (about an hour).
For Frosting:
1. Cream butter in a mixer.
2. Whisk together sugar and cocoa in a medium bowl. Combine hot water and vanilla.
3. With mixer going, add sugar mixture alternately with water mixture until well combined.
4. Add half-and-half a tablespoon at a time until frosting reaches desired consistency. Frost cake and enjoy!
NOTE: If you see cake as a delivery system for frosting, you may want to double the frosting.
Source: Southern Living magazine