My husband LOVES anything mint and chocolate. So I recently made this for him from The Ice Cream Deck. It was a big hit, especially with Bittersweet Chocolate Sauce. Hot fudge would also be great and be lend a little more sweetness. It was a little strong for me, so next time I'll use half the peppermint extract (1 tsp instead of 2). I also think I might try semisweet chocolate in place of bittersweet, just for fun.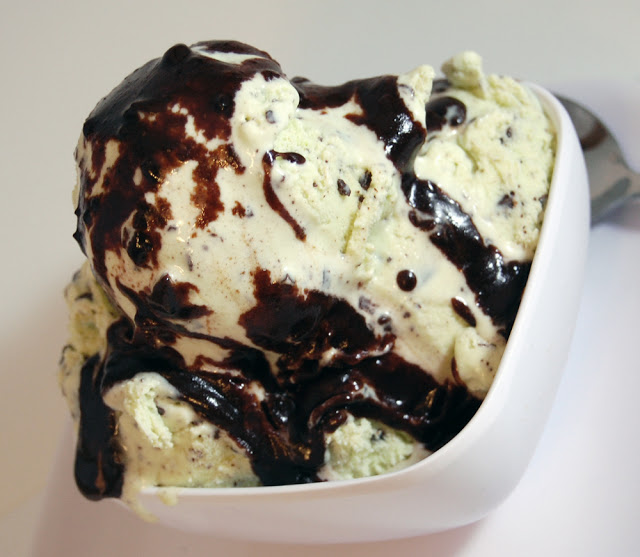 Ingredients:
2 cups half-and-half
4 large egg yolks
1/2 cup sugar
1 cup heavy (whipping) cream
1-2 tsp. peppermint extract
3 ounces bittersweet chocolate, grated or chopped
1. Prepare a large bowl or pan with ice water. This will be used as an ice bath for the custard you make. The depth of this ice bath should be about half the depth of your double boiler.
2. In the top of your double boiler, heat the half-and-half over simmering water until steaming. Whisk the egg yolks in a bowl until blended, then whisk in the sugar. Whisk some of the steaming half-and-half into the egg mixture. Then pour the whole thing into the double boiler.
3. Stir and cook over the simmering water until the mixture forms a custard and coats the back of a spoon, about 10 minutes. Remove from heat and place the top of your double boiler in the ice bath. Stir occasionally until it cools to room temperature.
4. Strain into a container and stir in the cream and the extract. Cover and refrigerate until well chilled.
5. Freeze according to ice cream maker instructions. When almost frozen, add the chopped or grated chocolate and allow to churn until it's mixed in well (about 15 seconds).
6. Transfer to a container and freeze until firm, about 2 hours.
Makes about 1 quart of ice cream.
Source: The Ice Cream Deck