This is an incredibly basic dish to prepare, but as I talk more and more to friends of mine, I'm shocked how many of them don't know how make mashed potatoes from scratch. I admit – I usually always have a box of instant mashed potatoes in my pantry, but man oh man, real mashed potatoes taste so much better! They are so easy too!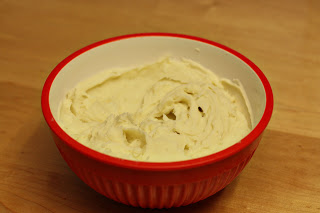 Ingredients:
6 medium potatoes, peeled (2 pounds)
1/3 – 1/2 C. milk
2 Tbsp. – 1/4 C. butter (REAL butter!)
1/2 tsp. salt
Dash of pepper
Directions:
1. Place diced potatoes in a 2-qt. sauce pan, add enough water just to cover potatoes. Heat to boiling, reduce heat. Cover and simmer for 20 minutes, or until potatoes are fork-tender. Drain. Return potatoes to pan and shake pan over low heat to dry the potatoes. (this will give you fluffier potatoes)
2. Mash potatoes in pan (if it's a non-stick pan, and plan to use a hand mixer, transfer to a mixing bowl). Mash until no lumps remain. Add milk in a little bit at a time. Continue to mash potatoes until you reach your desired consistency.
3. Add butter, salt, and pepper. Mash vigorously until light and fluffy.
Seriously, how easy is that! Take the pledge to make mashed potatoes from scratch! You'll be glad you did.