Last Sunday was my daughter's birthday and she requested her favorite meal, Stromboli, for dinner. I love it because it's super easy and reheats well.
The original recipe called for olives and red pepper flakes, but I have small children so those got nixed. I generally make two, even though there's only four of us, so we're guaranteed leftovers for lunches or another dinner later in the week. Plus I can put black olives on one for the adults and leave the olives out of the kids'.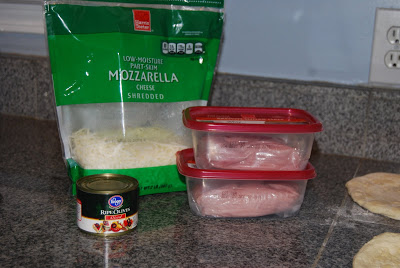 [Adapted recipe]
16 oz. loaf frozen bread dough, thawed, or
pizza dough
8 oz. lean ham, thinly sliced
1/2 cup shredded mozzarella cheese
1/4 cup pitted ripe black olives, sliced
1. Grease large baking sheet.
2. Roll out dough to a large square.
3. Layer ham on top of rolled out dough and top with cheese and olives.
4. Roll starting at one of the long ends, sealing the ends.
5. Place on baking sheet and bake at 375° for 25 minutes.
6. Let cool for 5 to 10 minutes before slicing to serve.
[Original recipe]
16 oz. loaf frozen wheat or white bread dough, thawed
8 oz. lean ham, thinly sliced
1/4 cup pimiento-stuffed green olives, coarsely chopped
1/4 cup pitted ripe black olives, coarsely chopped
1/4 cup shredded mozzarella cheese
1/8 tsp crushed red pepper flakes
1 Tbsp reduced-fat milk
1 Tbsp shredded Parmesan cheese
1. Line a 15x10x1-inch baking pan with foil, grease foil. Set aside. On a lightly floured surface, roll bread dough to a 15×8-inch rectangle. (If dough is difficult to roll out, cover and let rest a few minutes.)
2.Top dough rectangle with ham to within 1/2-inch of the edges. Top ham with olives, mozzarella cheese, and crushed red pepper flakes. Brush edges with water.
3. Starting with a long end, roll into a spiral, pinching edges to seal. Pinch ends and tuck under.
4. Place seam side down, on prepared baking pan. Brush surface with milk.
5. Using a sharp knife, make shallow cuts diagonally at 2-inch intervals along the top to allow steam to escape.
6. If desired, sprinkle with Parmesan cheese.
7. Bake in a 375° oven for 25-30 minutes or until brown. (If necessary, cover loosely with foil after 20 minutes of baking to prevent over-browning.)
Source: Better Homes and Gardens' New Dieters' Cookbook (2003)