OK, so maybe these cookies aren't famous. But they should be! We eat them all year round, but during the fall they especially hit the spot!


Ingredients:
2 C pureed pumpkin (or one 15 oz can–That's what we use.)
2/3 – 3/4 C Vegetable Oil (I use closer to 2/3 C)
2 tsp Cinnamon
4 tsp Baking Powder
2 tsp Baking Soda ("Baking Powder AND Soda?" you say? Don't ask me; IT WORKS!)
2 C Sugar
2 Eggs
2 tsp Salt
2 tsp Vanilla
4 Cups Flour
2 Cups Chocolate Chips
1 Cup Walnuts (opt)
1. Preheat oven to 375 degrees F.
2. In a stand mixer, add ALL ingredients, one by one, and mix on Medium speed until fully incorporated. Really. That's all you do.
3. Drop heaping spoonfuls 1 – 2 Inches apart on a lightly greased cookie sheet.
4. Bake for 12 – 15 minutes or until springy to the touch.
5. Let cool on the sheet for 5 minutes, then remove to a rack or some such device–we use a cheesecloth on our counter.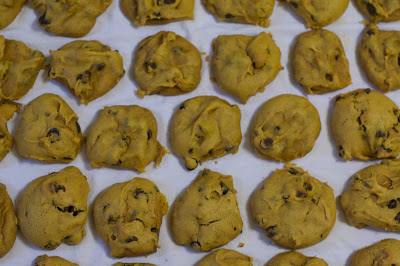 DELISH!
Source: By AWESOME Father-in-Law, Boyd.
~Kara