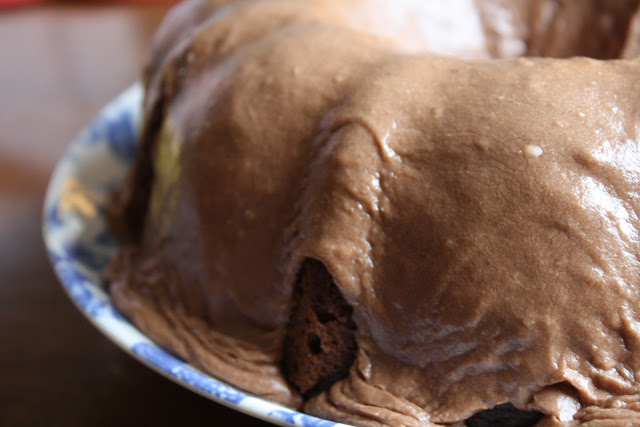 So, I have never said that I was a great cook. Never. I try. But, you know what, I walk away from the oven and help someone with homework, or I have to get a band aid for someone, or I have to run upstairs and take the clothes out of the washer and put them in the dryer. You know you can't be distracted when your cooking. Everyone knows this. I know it, I just choose to multi-task 😉 This cake was a big mistake! It turned out Delicious but it wasn't even supposed to be a cake!!! I was attempting to make a dessert to take over to friend's home for a "get-together" and like I always do, I tried a new recipe at the last minute. I was trying The Pioneer Woman's Knock You Naked Brownies, but, um, I didn't make the brownies. I mixed the cake mix like the box said then I added all of the ingredients from the brownie recipe. It was very wet. I wasn't sure if I could even bake it. But, I put it aside and made the brownies and then went back to the mess I made. I just stared at it. It had a lot of stuff in it. Ingredients that I didn't want to waste. So I dumped it into a bundt pan and cooked it. Then I made my homemade chocolate frosting and it was Delicious! Very moist and chocolaty and just good! So, that mistake turned out well.
Cake:
1 box of Betty Crocker Cake Mix
(the ingredients needed on the box)
1 cup chopped pecans, or less, or none!
1/3 cup evaporated milk
1/2 cup butter, melted
Preheat oven to 350 degrees. Spray your bundt pan with cooking spray really generously.
In a large bowl, mix the cake mix together like you normally would. Leave it in the mixing bowl. Add the following to the mixture, pecans, evaporated milk, butter. Mix these into the cake batter. Pour into the bundt pan, and bake for at least 30 minutes. You may need to let it cook a bit more, but check it with a toothpick . Let it cool completely before frosting.
Frosting:
3/4 bag powder sugar
1/2 cup Hershey's baking cocoa
1/8 cup milk
1/2 stick butter, room temperature (don't melt it, let it set out and soften)
This is the starter mix for the frosting. You may need to add a tad more milk, add only a Tablespoon at a time. Taste it, and go from there. More chocolate if it needs to be more chocolaty for you. More powder sugar, if it needs to be thickened or sweetened.
Adapted from The Pioneer Woman.