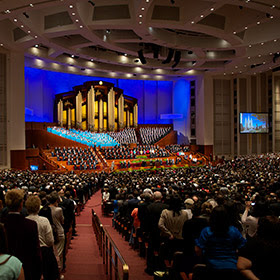 Wow. We haven't posted one of these in a while, so quickly before the morning session of Conference comes on, I am going to share a few thoughts that I get from watching or listening to our Church leaders twice a year.
Simplify your approach to Discipleship. Start where you are.
Our individual missions in life started way before we ever came to this earth.
I am a child of God. Therefore, what?
No matter where we are, we are the Lord's agents. We are always on His errand.
We are not always aware of what the Lord's sacrifice has done for us.
Referring to trials/challenges: It is our load. Bearing it is necessary on our path to eternal life. Don't expect to carry it alone. Seek help.
We were tutored in the pre-existence and were given trials and challenges unique to us.
For the women of the Church: Relax and rejoice in our differences and sisterhood. We need deep, meaningful relationships with each other.
Learn to recognize the power of the Atonement in your life
The Lord sees weaknesses differently than he does rebellion.
You must become the rock the river cannot wash away.
Challenges: some have to be solved, some have to be endured.
Okay! These were just some that stood out to me from notes I have taken over the past couple of years. I hope some of them have meaning to you and will help you in your journey. I am happy to share them and have been strengthened by reading over them again.
Image from LDS.org.