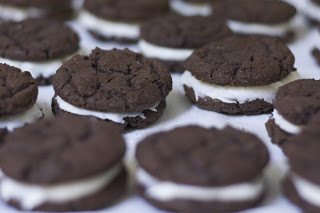 My mom has made these cookies for years and years. I think I'm addicted to them. I blame her. 🙂
1 box Devils Food Cake Mix
1/2 tsp vanilla
1/3 Cup Vegetable Oil
2 eggs
1. Preheat oven to 350 degrees F.
2. In a stand mixer mix all ingredients till well combined and a stiff dough forms.
3. Roll into 1″ balls (I use a cookie scoop, but my mom just eyeballs it with a dinner spoon) and place on a cookie sheet 2″ apart.
4. Flatten slightly.
5. Bake for 7 – 9 minutes (I actually bake mine for 10, but that's because my oven is…silly. And by "silly" I mean I-can't-wait-till-I-can-pick-out-my-own-stinkin'-oven! Oops! Forgive the rant. It's the simple things in life, right?)
Don't over bake. The cookies will be soft and look moist when you pull them out.
6. Cool for 5 minutes or until firm, then remove from cookie sheet. Cool completely.
7. Make your Frosting.
4 oz Cream Cheese, softened
1/2 Stick (1/4 Cup) Butter or Margarine, softened
1/2 tsp Vanilla
2 – 2.5 Cups Powdered Sugar
8. Beat the Cream Cheese and Butter together until creamy and smooth.
9. Add vanilla and mix thoroughly.
10. Gradually beat in Powdered Sugar until your frosting is a good thick consistency.
11. Make an Oreo by selecting two cookies that are the same size. Spread some frosting on the underside of one cookie and sandwich it with an other.
Voila!
12. Now you must decide: Should you share? Or should you stash them away for a hidden moment during the day? (I say, moderation in all things–do both!)
Source: Modified from Heidi Brady and Angella Workman, Duchesne 2nd Ward's 2nd Cookbook.