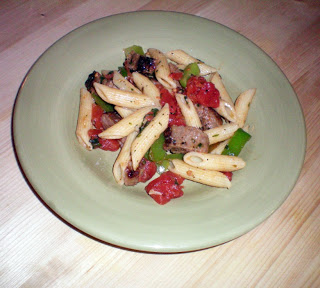 My husband and I made up this recipe one night and it's been a favorite ever since. It's kind of a "make-your-own" pasta like you see in Italian restaurant menus because you can put as much or as little of what you like with just a few basic ingredients. Feel free to add other things you think would be great additions!
Ingredients:
3/4 – 1 package non-long-noodle pasta (bowtie, penne, cartoon shapes…something fairly bite-size)
2-3 Italian sausages (we typically use mild, I don't think the brand matters)
2-3 tsp minced garlic
Olive oil (3 T or more)
Roma tomatoes, to taste
1-2 red bell peppers
Basil, thyme, and oregano–preferably fresh–to taste
Salt, pepper, and whatever spices your tastebuds desire–to taste
1 1/2 – 2 C shredded parmesan cheese (opt.)
1. Cook the pasta according to package directions.
2. While the water for the pasta is cooking, remove sausage from skins (I think it's easiest to slice lengthwise down the middle then pull the skin from the top…) and begin cooking in skillet on medium – medium-high heat (…with the flat part down first).
3. While the pasta and Italian sausage is cooking, slice and chop your vegetables.
4. Once the Italian sausage is cooked enough to cut with a wooden spoon, add the vegetables to the skillet and continue cooking.
5. When pasta is cooked, strain and return to pot. Toss with olive oil, add skillet contents and all remaining ingredients, toss again.
6. At this point you can serve as is OR transfer to a baking dish, cover with parmesan cheese, and broil in oven until cheese is melted. Makes approximately 4 servings as a main dish.
Source: brainpower