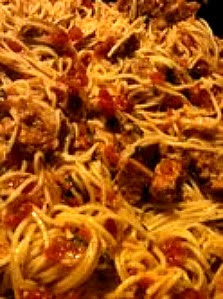 This makes a lot, so if you want to make less than 8 servings, I suggest halving the ingredient amounts. The original recipe doesn't include a meat but you can add one; I added Italian turkey sausage so I've included it here.
Ingredients:
2 (8 oz.) packages angel hair pasta
Italian turkey sausage, to taste (I used 1 package which is 5 links but won't use as much next time)
1/4 C olive oil
1/2 onion, chopped
4 cloves garlic, minced (I used 4 t bottled minced garlic)
2 C diced Roma tomatoes (I used 2 cans of Italian-style diced tomatoes)
2 T balsamic vinegar (I thought I had this and didn't so I substituted balsamic vinaigrette dressing–it worked!)
1 (10.75 oz) can low-sodium chicken broth
crushed red pepper to taste
freshly ground black pepper to taste
2 T chopped fresh basil
1/4 C grated parmesan cheese
1. Bring a large pot of lightly salted water to a boil. Add pasta and cook until al dente (about 8 minutes); drain.
2. Cook Italian turkey sausage. I did mine in the skillet. I had never worked with Italian turkey sausage until then and found it kind of hard to work with b/c the casing starts to peel–I removed the casing once the sausage was cooked and before cutting it up. It was tasty, though!
3. Pour olive oil in a large, deep skillet over high heat. Saute onions and garlic until lightly browned. Reduce heat to medium-high and add tomatoes, vinegar, chicken broth, and sausage; simmer about 8 minutes.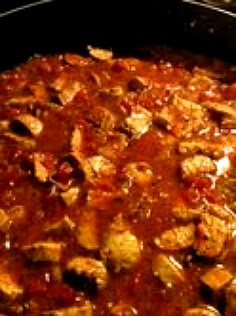 4. Stir in red pepper, black pepper, basil, and cooked pasta, tossing thoroughly with sauce. Simmer for about 5 more minutes and serve topped with grated cheese. (I prefer mine without cheese.)
I included this in freezer friendly because I assume the sauce freezes well.