We love, love, love the classic combination of chocolate and peanut butter at my house. This particular recipe is probably the most requested treat in our family.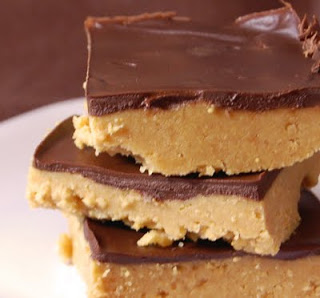 Ingredients:
1 cup butter, melted
1 cup peanut butter
1 (16 oz.) pkg. powdered sugar
1 1/2 cups graham cracker crumbs
1 (12 oz.) pkg. semisweet chocolate chips, melted
1. Combine butter, peanut butter, powdered sugar, and graham cracker crumbs in a mixing bowl. Stir together until well blended. Press into ungreased 9″x13″ pan.
2. Pour melted chocolate over top, spreading evenly. Cut into bars when chocolate is set.
Notes:
You can speed the process of the chocolate setting by putting the pan in the fridge. Just remember to take it out at least a half hour before you want to cut it. When it's cold the chocolate will crack.
We have often wanted to make these bars but not had the graham cracker crumbs. We've experimented with substitute ingredients with pretty good results (All Bran cereal and Honeycomb cereal to name two; pulse in the blender).
One of our latest variations on this has been to add coconut into the peanut butter mixture. SO GOOD!
Source: My Mom