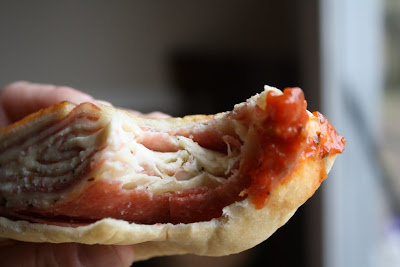 These pepperoni roll ups are delicous! We have added this recipe to our list of family favorites. I can see so many possibilities with this roll up! You can add anything to these, and everyone will love them!
Pam
cling wrap
Rhodes White Bread Loaves
Olive Oil
1/2 lb. Pepperoni Slices, thin slices from the DELI
*if too spicy for you, then use salomi slices – not spicy and delicous!
1 bag grated mozzarella cheese
1/2 cup of less of parmesean cheese, or romano
Italian Seasonings, a light sprinkle is all you'll need
Garlic powder
4 TBSP melted butter
marinara suace, optional
Spray baking sheet with Pam and place two frozen loaves onto pan. Spray cling wrap with pam and place over top of the loaves. Let loaves rise for about 7 hours.
Roll dough out to 11×11 square. Brush with olive oil. Lay pepperoni slices out cover the entire square. Sprinkle mozzarella and parmesean cheeses over the pepperoni slices. Don't over do the parmesean cheese. Sprinkle, very lightly, the italian seasoning over the square. Sprinkle garlic powder over the square. Roll up loaves. Brush butter over tops of the pepperoni Rolls.
Bake in preheated oven at 375 degrees. for 15-25 min. The tops of the pepperoni rolls should be lightly brown and hollow when you thump them.
Serve immediatly. You may serve this with marinara suace for dipping.