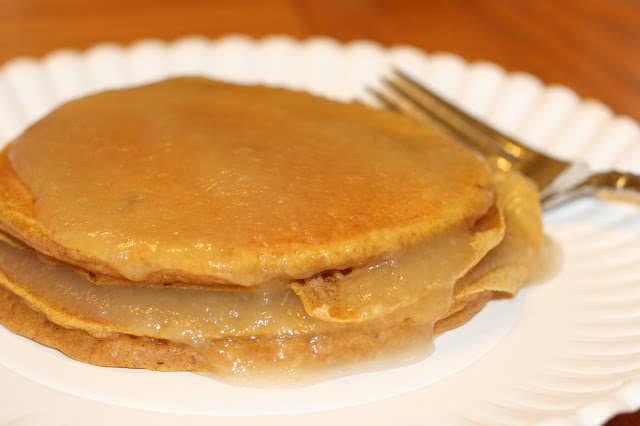 These delicious pancakes are especially good in the fall, for Christmas breakfast, or a regular day of the week–pretty much ANY TIME! Our nieces stayed with us over Thanksgiving and they gobbled these up! No pun intended…
Ingredients:
2 Cups Flour
2 Tbsp Brown Sugar
2 tsp Cinnamon
3 tsp Baking Powder
2 Eggs
1.5 Cups Evaporated Milk
1/2 Cup Pumpkin (we use canned–refrigerate unused portion for later)
2 Tbsp Vegetable Oil
1 tsp Vanilla
1. Sift together all dry ingredients.
2. Add all wet ingredients and stir until well incorporated.
3. Bake in 6″ diameter rounds in a frying pan or on a griddle over MEDIUM-LOW heat. We make ours using a griddle and set it to 325.
Serve with apple sauce (pictured above), maple syrup, whipped cream, or whatever seems good to you!
*Halves easily.
Source: My aunt, Eileen
~Kara