This is a quick and easy side dish and perfect for spring when asparagus is in season (and on sale!).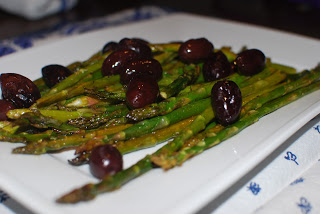 1 1/2 pounds asparagus, trimmed
1/2 cup kalamata olives, pitted
1 tablespoon extra-virgin olive oil
1 teaspoon lemon pepper seasoning
1. Preheat oven to 425°F. Line a baking sheet with aluminum foil.
2. Place asparagus and olives on prepared baking sheet. Drizzles with olive oil and sprinkle the lemon pepper. Toss to coat.
3. Roast in preheated oven for 10 to 12 minutes (depending on thickness of the asparagus).
Source: Sandra Lee Semi-Homemade 20-minute meals