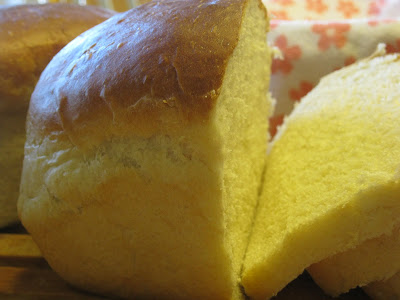 This bread lives up to its name – it is delicious! The title of this bread comes from my mom's recipe. This recipe is a compilation of her recipe, my additions, and a "Make-a-Mix" recipe. I use my bread machine as a dough machine then put the dough into bread pans – but this works just as well being made in a bowl by hand. I make a bread "mix" and store it for making bread throughout the week. The process is the same for White or Wheat Bread.
Ingredients for White Bread Mix:
20 cups bread flour
1 1/2 cups powdered milk
1 1/3 cups gran. sugar
4 1/2 tsp salt
Ingredients for Whole Wheat Bread Mix:
20 cups whole wheat flour ( I grind my own flour to insure we are getting all the goodness. I use 12 cups Hard White flour, 3 cups Hard Red or Bronze flour, 5 cups Spelt flour – you can use what works for you)
1½ cups powdered milk
1 1/3 cups gran. Sugar
6 tsp salt
1. Mix all ingredients together in a large container. This will store for 4 months in the pantry.
Ingredients for Bread:
1 tbsp Instant Yeast
7 Cups Bread Mix
1 tbsp Lecithin Powder (optional)
1/3 cup oil (I use olive)
1 egg beaten
2 cups very warm water
Butter
1. Put yeast, bread mix, Lecithin Powder, and oil in large bowl or bread machine
2. Add Olive Oil
3. Add beaten egg with enough of the very warm water to make 2 ¼ cup liquid.
4. Mix all ingredients together until very well blended adding additional mix 1 tablespoon at a time, if dough is too sticky
If using a bread machine set on dough setting, if not:
5. Pour out onto flour covered or non-stick sprayed surface. Knead for 10 minutes.
6. Place dough in large greased bowl , cover and let the dough rise in a warm place until double.
7. Punch dough down. Let rise about 20 min more.
8. Turn dough out onto non-stick sprayed surface.
9. This will make 2 large loaves, 3 medium loaves or 6 baguette shapes. Separate bread according to how many loaves you are making. and roll into bread loaf shape.
10. Place into non-stick sprayed bread pans or large cookie sheet for baguettes. Let rise for 30 minutes in warm place. I turn my oven on at this point and let the bread raise in the pans on top of the oven covered with a cloth – if they are raising fast they will only need 20 min to raise.
11. Bake for 18-25 (depends on the size of your loaf) minutes in 350 oven or until golden – wheat bread will take longer than white and will be darker.
12. When bread is done, remove from pans, place on cooling rack and brush tops with butter.
Enjoy!
Source: My mom, Make-a-Mix and me