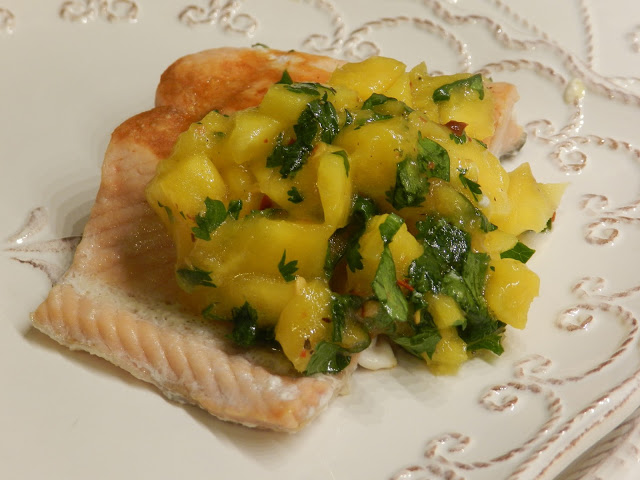 Fruit salsas are the perfect accompaniment to grilled fish. The absolute best fish to try with this is triggerfish if you can get it. Salmon is great too. As you can tell from the picture I like a lot of salsa with my fish.
Ingredients:
1 mango, peeled, pitted, and diced small
1 bunch cilantro, finely chopped
1/2 t. red pepper flakes
1/4 c. oil, plus more for grilling
2 T. lime juice
salt and pepper
6 salmon fillets (2 pounds)
Directions:
1. Stir together mango, cilantro, red pepper flakes, oil, and lime juice; seaon with salt and pepper.
2. Heat a grill or grill pan to medium-high. Clean and lightly oil hot grill. Season salmon with salt and pepper and lightly brush with oil. Grill until salmon begins to turn opaque, 4 to 6 minutes. Flip and cook until opaque throughout, 4 to 6 minutes. Transfer to a platter, spoon chimichurri over top, and serve.
Source: Unknown