I didn't appreciate the wonderful flavor and textures of the Samoas Girl Scout Cookies until I was an adult (I stuck with the boring shortbread to be safe). And yes, I know they are now called Caramel Delites. But to me they will always be Samoas. This fudge recipe was a fun way to recreate some of that yumminess. Hope you like it.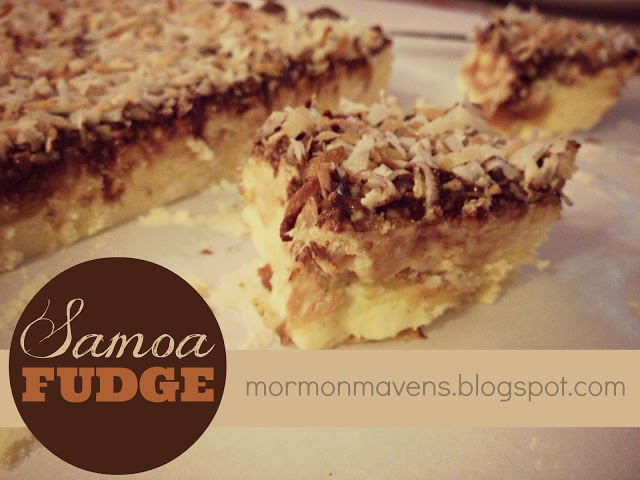 Ingredients:
1 cup shredded coconut
2 cups wrapped caramels
1 tsp. heavy cream
¾ cup butter
¾ cup heavy cream
1½ cups sugar
1 pinch kosher salt
1 (3-ounce) package coconut cream Instant JELL-O pudding mix
1 (11-ounce) package white chocolate morsels
1 (7-oz) jar marshmallow creme
¾ cup semi-sweet chocolate morsels
1. Place coconut in an even layer on a baking sheet and toast until golden brown in a 425 degree oven. Set aside.
2. Unwrap caramels and place in a microwave-safe bowl with the 1 tsp. of heavy cream. Microwave this for 30 seconds at a time, stirring after each heating, until smooth. Set aside.
3. Line a 9″x13″ pan with parchment paper, allowing enough length on each end for "handles" later. Set aside.
4. In a large saucepan, heat the butter, the 3/4 up cream, sugar, and salt over medium-high heat. Bring this to a boil for 5 minutes, stirring constantly. Remove from heat.
5. In a large mixing bowl, combine the pudding mix, white chocolate, and marshmallow creme. Pour the mixture from the hot saucepan into the mixing bowl. Mix and stir until smooth. Pour this into the prepared pan.
6. Pour the caramel over the top. It will thick so use a knife to spread it to the edges. Use the knife to then swirl the caramel down into the fudge. Refrigerate for 2-3 hours until the fudge is set.
7. Melt the chocolate morsels in the microwave for 30 seconds at a time until the chocolate stirs smooth. Spread the chocolate over the fudge. Sprinkle with the toasted coconut. Chill until chocolate is set.
8. Lift the fudge by the parchment paper "handles" and cut into squares. Store in the fridge.
Source: Key Ingredient