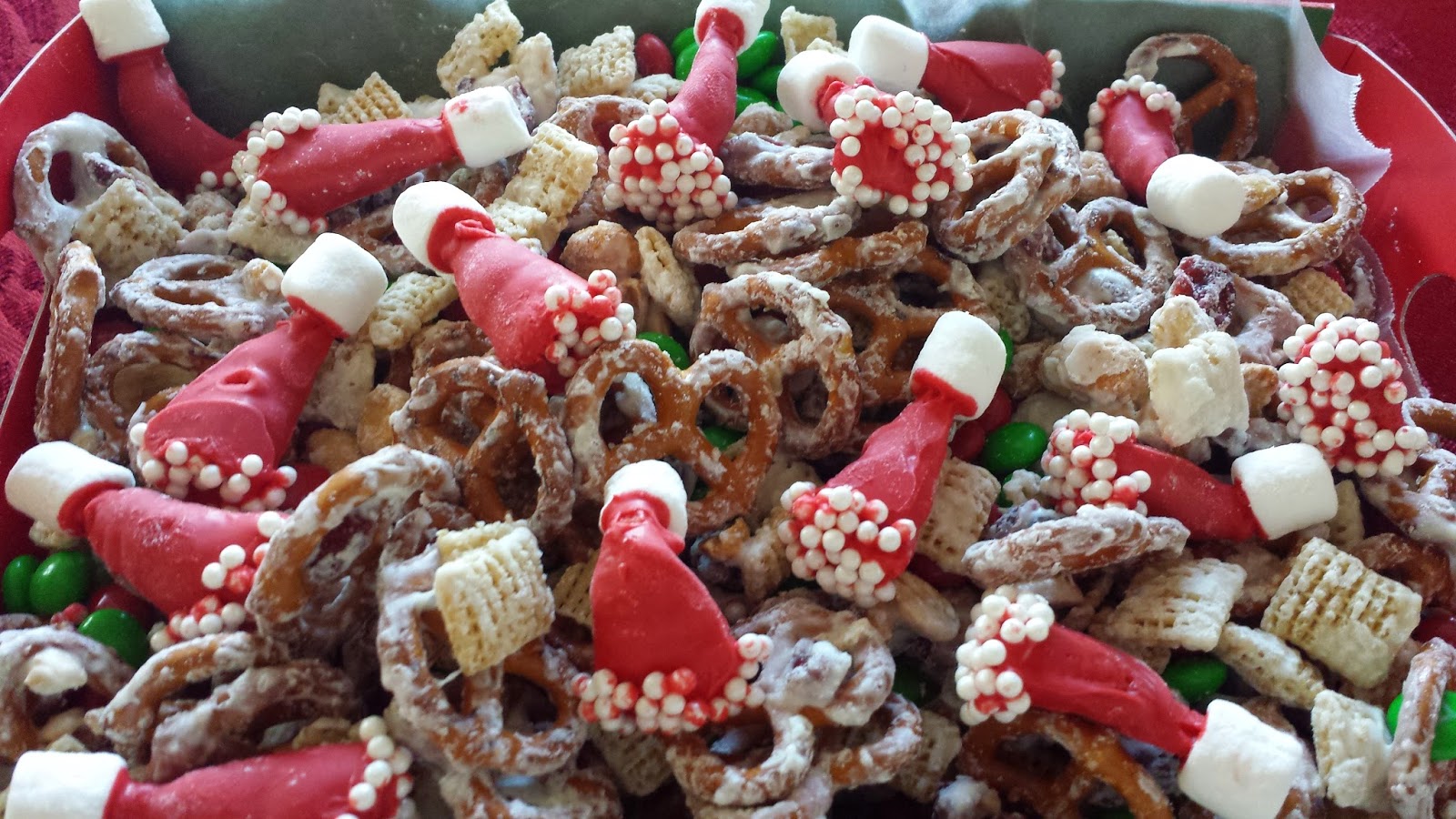 This recipe was originally published on December 16, 2014. It is such a fun and tasty looking Christmas treat that we thought we would bring it back. Hats off to Amy for sharing it! (pun intended)
This is so yummy and fun to make and to eat! You'll definitely want to take it to one of the many Christmas parties of the season.
Ingredients:
Santa Hats
Bugles
Red melting disks
mini marshmallows
white sprinkles (nonpareils)
Snack Mix
3 c. mini pretzels
1/2 c. craisins
1 c. salted dry roasted peanuts
2 c. Rice Chex
2 c. holiday colored M&M's
8 oz. white chocolate for metling
How to Make
Santa Hats
1. Melt the candy melts, along with a tablespoon of shortening (to help thin the melted candy), in 30 second intervals on half power in your microwave until melted.
2. Immediately start dipping.
3. Let them set up for 10 minutes or so on parchment or wax paper.
4. When they are set, remelt the red candy disks (if necessary) and dip just the bottoms (the large part of the Bugle) into the white sprinkles.
5. Then flip it over and dip the top in the melted candy and press a mini marshmallow on top.
6. Let dry on wax paper.
Snack Mix
1. Spread all your ingredients, EXCEPT M&M's and Santa Hats, out on a baking sheet lined with parchment or wax paper.
2. Melt your white chocolate according to package directions and drizzle over the pretzel mix. Transfer to a large bowl.
3. When chocolate is set, sprinkle M&M's and Bugle Santa Hats over the mix.
Source: cookiesandcups.com