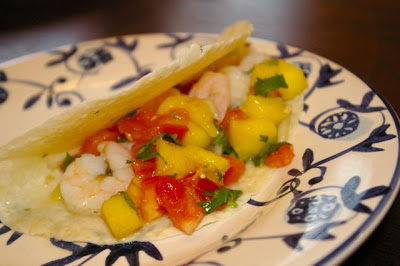 Simple, yet extremely delicious is what I like in a recipe. This quick dish is one of my favorites! I can't get enough of these and eat way more than my share. You may want to consider increasing the quantity so everyone at the table can pile on the ingredients!! The recipe calls for avocado, which isn't pictured here, but adds great flavor to the dish. I leave it out when avocados get too expensive.
Serves: 4
Ingredients:
1 mango, diced
1 ripe avocado, diced
2 tomatoes, diced
1/2 cup fresh cilantro, diced
1/4 cup chopped onion
3 cloves garlic, minced
1/2 tsp. salt
2 T. lime juice
1lb uncooked shrimp, deveined and tail-off
2-3 T. butter
1 clove garlic, minced
1 t. parsley
Salt and pepper to taste
8 soft flour tortillas (taco size)
1. Toss the mango, avocado, tomatoes, cilantro, onion, garlic, salt, and lime juice together in a bowl. Cover and refrigerate for at least 30 minutes.
2. Melt the butter in a skillet over medium-high heat. Add the garlic and parsley. When it starts to sizzle add the shrimp. Cook, stirring constantly, until the shrimp are pink and opaque, 2 to 3 minutes.
3. To serve, place a few shrimp onto a warm tortilla, top with mango salsa and fold up.
Source: allrecipes.com