Slow cooker or crockpot. However you say it, this is probably my most favorite kitchen tool. How much fun is it to throw a bunch of ingredients into a pot, put the lid on, plug it in and come home to dinner? I was at my sister's house last week and she had just started her new job and asked me if I would mind throwing the Taco Soup in the crockpot and making the Sweet Corn Cakes (another recipe–stay tuned). I was delighted to help out and we had just had this recipe a couple of weeks before at her house and I was excited to have it again! You do need to brown some ground beef and add it at the end of the cooking time, but that was no problem. I think you will really enjoy this–I sure did! And of course the house smelled wonderful all afternoon.
This is a great dish to have during these crazy busy days leading up to Christmas, when we are all over-extending ourselves with holiday prep. You know I'm right.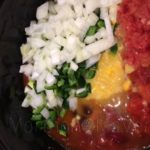 Slow Cooker Taco Soup
2016-12-14 06:22:49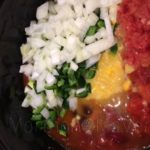 Serves 6
Ingredients
1 (15 oz.) can black beans, drained & rinsed
1 (15 oz.) can pinto beans, drained & rinsed
1 (15 oz.) can kidney beans, drained & rinsed
1 (14 oz.) can petite diced tomatoes, drained
1 (15 oz.) can sweet corn, drained (I used creamed corn undrained--because who wants to drain that?)
1 (10 oz.) can green enchilada sauce
1 (10 oz.) can red enchilada sauce
half an onion, chopped
1 cup chicken broth
1 poblano pepper, chopped
1 (1 oz.) packet taco seasoning
1 T. cornstarch + 2 T. water
1 lb. ground beef
Instructions
Add all beans, tomatoes, corn, onions, peppers, enchilada sauce, chicken broth and taco seasoning to a large crock pot. Stir to combine. Cover with lid and cook on low heat 3-6 hours.
Mix together the cornstarch and water to create a "slurry." Add to the soup in the crock pot as a thickener.
Brown and crumble the ground beef in a large skillet until thoroughly cooked. Drain off the grease and add beef to crock pot and stir to combine.
Serve with shredded cheese, tortilla strips, sour cream, etc.
Adapted from Life in the Lofthouse
Mormon Mavens https://www.mormonmavens.com/