I have been on a quest for the ultimate Mushroom Soup recipe ever since I tasted the soup at Pop Ellis' Soda Shoppe in Abingdon, Virginia. If you have ever been there and tried their soup and have any ideas for duplicating that, please let me know! In the meantime…
This recipe comes from a book entitled IS IT SOUP YET? which I purchased from a Scholastic Book Fair at my kids' elementary school, so many years ago. I have only tried a couple of the recipes from that cookbook, and this is one that I never tried but wanted to.
During a little declutter of my cookbook shelf, I decided this was one of the items that could bless someone else, but before I let it go I copied down the recipe–just in case I could re-create the amazing aforementioned soup.
The recipe comes pretty close, but I substituted apple cider vinegar for the Cream of Sherry, and the taste is a little vinegar-y.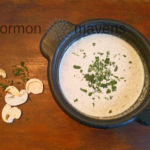 Cream of Mushroom Soup
2019-12-17 07:07:54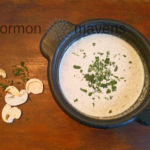 A tasty alternative to the canned stuff.
Ingredients
4 tablespoons butter
1 lb. fresh mushrooms, coarsely chopped
3 tablespoons chopped onion
1 tablespoon flour
1/2 cup cream sherry (I subbed apple cider vinegar)
3 cups beef broth
1/4 teaspoon dried thyme
1/2 teaspoon dry mustard
1/4 teaspoon garlic powder
1/4 teaspoon black pepper
1 cup 1/2 and 1/2
1/8 teaspoon salt
2 tablespoons fresh parsley (opt. for garnish)
Instructions
In a 4 quart stockpot, melt butter over medium heat.
Add mushrooms and onion and cook for 15 minutes until tender.
Stir in flour and sherry. Cook for 1 minute.
Blend soup with immersion blender (or in small batches in food processor) until smooth.
Add 1 cup of the beef broth, thyme, dry mustard, garlic powder, and pepper and blend until smooth.
Pour back into the stockpot (if you used food processor) and stir in the remaining broth, 1/2 and 1/2, and the salt.
Heat through, but do not boil!
Adapted from Is it Soup Yet?
Mormon Mavens https://www.mormonmavens.com/