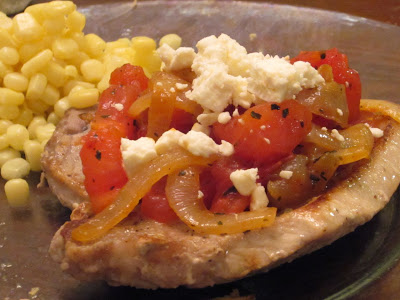 Let's be honest with each other, ok? Pork chops don't always turn out that great. They can be tough, easily overcooked and bland. Today I am rescuing the pork chop. This recipe has amazing flavor and texture, and put pork chops back on the dinner menu at our house. Before I get to the recipe, here is a link to a tutorial on how to finger test the doneness of meat:
Remember that pork needs to be cooked all the way through. I would recommend cooking on a cast iron skillet if you have one because it retains it's heat well and allows you to turn the stove off completely and still have warmth for your pork chop to finish cooking through.
4 Servings
Ingredients:
2 tablespoons olive oil, divided
1 large onion, halved and thinly sliced
4 pork loin chops, 1 inch thick
salt to taste
black pepper to taste
garlic powder to taste
1 large tomato, sliced into chunks, OR pint of grape tomatoes, halved
3 cloves garlic, diced
1 T dried basil
2 tsp. of italian salad dressing OR balsamic vinegar
4 oz. feta cheese, crumbled
Directions:
1. Heat 1 tablespoon of oil in a skillet over medium heat. Stir in onion and cook until golden brown. Remove onions from pan and set aside.
2. Add 1/2 tablespoon oil to the hot skillet. Season pork chops with salt, pepper, and garlic powder, and place in skillet. Seer about 2 -3 minutes on first side until browned. Turn and seer on second side for about 2-3 minutes, then turn the temperature down to medium-low or (off if using cast iron) Test for doneness and cover for about 2-4 minutes more (testing for doneness often). When the meat is done, remove from pan and keep warm under some foil.
3. Return the heat to medium. Heat remaining oil in the skillet. Return onions to skillet, and stir in tomatoes, garlic, and basil. Cook and stir about 3 minutes, until the tomatoes are tender. Mix in dressing or balsamic vinegar, and season with salt and pepper.
4. Top chops with the onion and tomato mixture, and sprinkle with feta cheese to serve.
Source: adapted from an allrecipes.com recipe