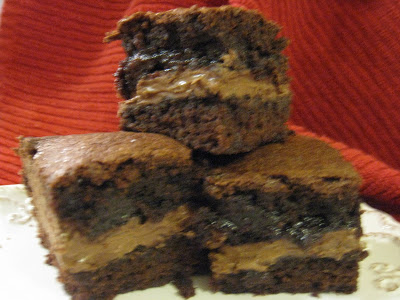 Ingredients:
2 1/2 cups crushed butter pretzels
1 cup melted butter
5 T. Sugar
Peanut Butter Cookie Mix (and all ingredients the mix calls for)
Brownie Mix (and all the ingredients the mix calls for)
2 (10.5 oz. bags) snack size Reeses peanut butter cups
Directions:
1. Crush the pretzels in a food processor or however you like to crush pretzels. I recommend not crushing the pretzels to dust but keep some small pieces to keep the crust crunchy. Mix the melted butter, sugar and pretzel crumbs. Press into lightly greased 9×13 pan. Set aside.
2. Make the cookie dough according to package directions. Lightly press the cookie dough evenly on top of the pretzel crust.
3. Unwrap 32 peanut butter cups and cover the cookie dough with the candy.
4. Whip up your brownie mix and pour evenly over the peanut butter cups.
5. Bake at 350 for 40-45 minutes.
6. Cool completely before cutting.
Source: Hollie Schultz