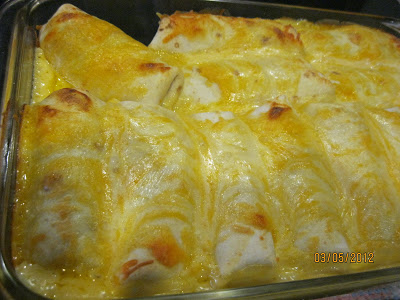 In the past, we haven't eaten Enchiladas at our house. Our children didn't like the way "red" Enchilada sauce looked and wouldn't taste it. As Enchiladas are a must have, I set out on a quest to find a different recipe. I saw this recipe in a Campbell's soup pamphlet and changed it to our tastes. It is quick, freezes well, and is delicious!
Ingredients:
3 cups diced or shredded cooked chicken (canned could work)
1/2 small onion chopped fine
1 3-4 oz can chopped Green Chiles
1 tsp garlic powder
1 1/2 cups shredded Sharp Cheddar Cheese
3/4 cup shredded Monteray Jack Cheese
1/2 cups Light Sour Cream
1 10-11oz can Cream of Chicken Soup
3 cups milk
12-16 medium size Flour Tortilla
1. Mix Chicken, onion, chiles, garlic powder, 1 cup sharp cheese, and 1/2 cup Jack Cheese in medium bowl. Let stand for 5 minutes.
2. Spray 13 x 9 inch pan with non-stick spray
3. Blend sour cream, cream of chicken soup, and milk in bowl or blender. Pour 1/3 of this mixture into chicken mixture
4. Place 1/3 cup (aprrox – it will depend on the size of your tortilla) of chicken mixture in middle of flour tortilla. Fold side edges in and top edge over – "roll" to desired size. Place "outside edge" down in prepared pan repeat until mixture chicken is gone.
6. Sprinkle remaining cheese over top of Enchiladas, pour remaining soup mixture over the top of the cheese.
7. Cover with foil and bake at 400 for 20-25 minutes. Remove foil and bake for 5 minutes more.
Source: Campbell's Soup and me