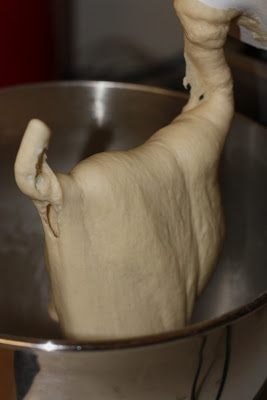 I love making bread. Maybe it's my mom's blood coursing through my veins, but making bread just makes me feel so…so…ACCOMPLISHED! If I do nothing else in a day but make a loaf of bread, I have been successful. The end.
We use this recipe for many things. That's why it's ALL PURPOSE! Rolls, Cinnamon Rolls, a regular loaf, etc. I have even used it to make Navajo Tacos and fried it for the scones. All these things will be posted on the blog eventually, but we have to have the basics first. Right?
Ingredients:
4 Cups Warm Water, divided
4 Tbsp Yeast
2/3 C + 1-2 Tbsp Sugar
4 Eggs
1/2 C Butter (or margarine)
4 tsp Salt
10 – 12 Cups Flour
1. In a mixing bowl combine 1.5 C warm water, yeast and 1-2 Tbsp Sugar. Wait approximately 5 minutes for it to activate (get bubbly).
2. Add the rest of the water, 2/3 C sugar, the eggs, the butter and the salt and mix together. It won't fully incorporate, just kind of mix it all around.
3. Mix the flour in, one cup at a time, until a slightly sticky dough forms. Knead for 200 turns on a floured board–or, if you're lazy like "yours truly," let the stand mixer go for 10 – 15 minutes.
4. Cover with a towel and let raise till doubled in size.
5. Punch Down and make something YUMMY!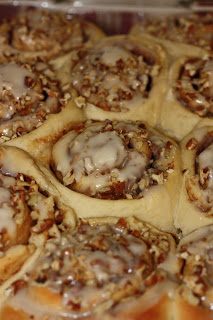 ~Recipe halves easily!
~Can be refrigerated for up to 1 week for later use.
Source: My friend, Stasha P.
~Kara