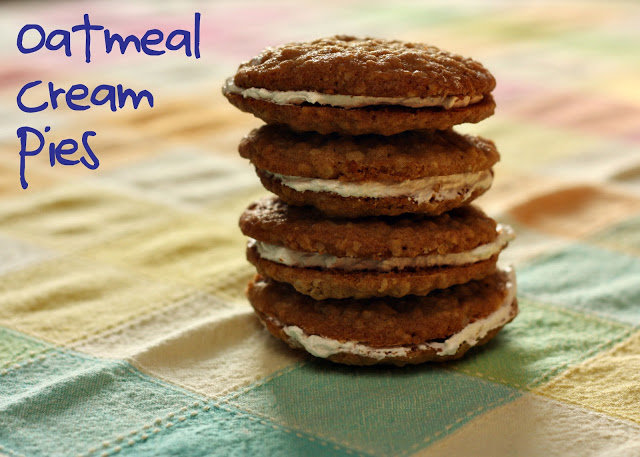 I LOVE Little Debbie's Oatmeal Cream Pies. I enjoy them so much that I limit myself to one purchase a year of those little sweeties… (if I bought them more, I'm pretty sure I'd have a much larger waist line).
I saw this recipe, and knew I had to try it. These are delicious! A grown-up version (and much less processed) of Little Debbie's creation. And sadly, these cookies didn't last more than 48 hours in my house!!
Enjoy!
(Makes 18 Pies)
Cookie Ingredients:
1 cup margarine
3/4 cup dark brown sugar
1/2 cup sugar
1 tablespoon molasses
1 teaspoon vanilla
2 eggs
1 1/2 cups flour
1/2 teaspoon salt
1 teaspoon baking soda
1/8 teaspoon cinnamon
1 1/2 cups quick oats
Cream Filling Ingredients:
2 teaspoons very hot water
1/4 teaspoon salt
1 (7 ounce) jar marshmallow cream
1/2 cup shortening
1/3 cup powdered sugar
1/2 teaspoon vanilla
Directions:
– In large bowl, cream margarine, sugars, molasses, vanilla, and eggs.
– Combine flour, salt, baking soda, and cinnamon. Add to the creamed mixture; mix in the oats.
– Drop dough by TBS on ungreased sheets. (I used a small cookie scoop.)
– Bake at 350 degrees F. Bake for 10-12 minutes,or until just starting to brown around the edges. They will look moist; don't overcook.
– While the cookies bake prepare the filling. In small bowl, dissolve the salt in the hot water. Allow this to cool.
– Combine marshmallow cream, shortning, powdered sugar, and vanilla in med bowl; mix on high until fluffy.
– Add the cooled salt water and mix well. Spread filling on flat side of one cookie, press 2nd cookie on top.
(Source)