I am not saying that I have jumped on the quinoa bandwagon, but I got a free "Eating Well" magazine in the mail this past week and was just flipping through it and left it open on the kitchen island. Next thing you know I have a request to make these lovelies. Okay, I was game. These are actually pretty good. And I had all of the ingredients on-hand, including a hand-crank grinder that I haven't used in forever*. Pretty handy little tool, really. Mental note to use this more often.
Ingredients:
1/4 cup unsalted butter, softened (I used salted because that is what I had. Paula Deen says that's okay.)
3/4 cup smooth or crunchy natural almond butter
2 large eggs
3/4 cup packed light brown sugar
1 t. vanilla extract
3/4 cup quinoa flour (I used my hand-crank grinder to make this)
1 t. baking powder
1/4 t. salt
1 cup semi-sweet chocolate chips
1. Preheat oven to 350 degrees F. Line an 8-inch square baking pan with foil allowing it to slightly overhang on opposite ends so you have "handles" to lift the blondies out of the pan. Coat the foil with cooking spray. Seriously. These things are a little sticky when you cut them and pull them off of the foil.
2. Beat butter and almond butter in a mixing bowl with an electric mixer until creamy. Beat in eggs, brown sugar and vanilla. Whisk quinoa flour, baking powder and salt in a small bowl.
3. Mix the flour mixture into the wet ingredients until just combined. Stir in chocolate chips.
4. Spread the batter evenly into the prepared pan and bake about 25 minutes–until a toothpick inserted in the center comes out with just a few moist crumbs on it. DO NOT OVER BAKE.
5. Remove from oven and let cool about 45 minutes in the pan. Lift the blondies out of the pan with the foil and transfer to a cutting board. Let cool completely and cut into bars.
6. Makes 24 blondies.
7. These should keep up to 5 days in the fridge, in an air-tight container.
*Check out this cool grinder…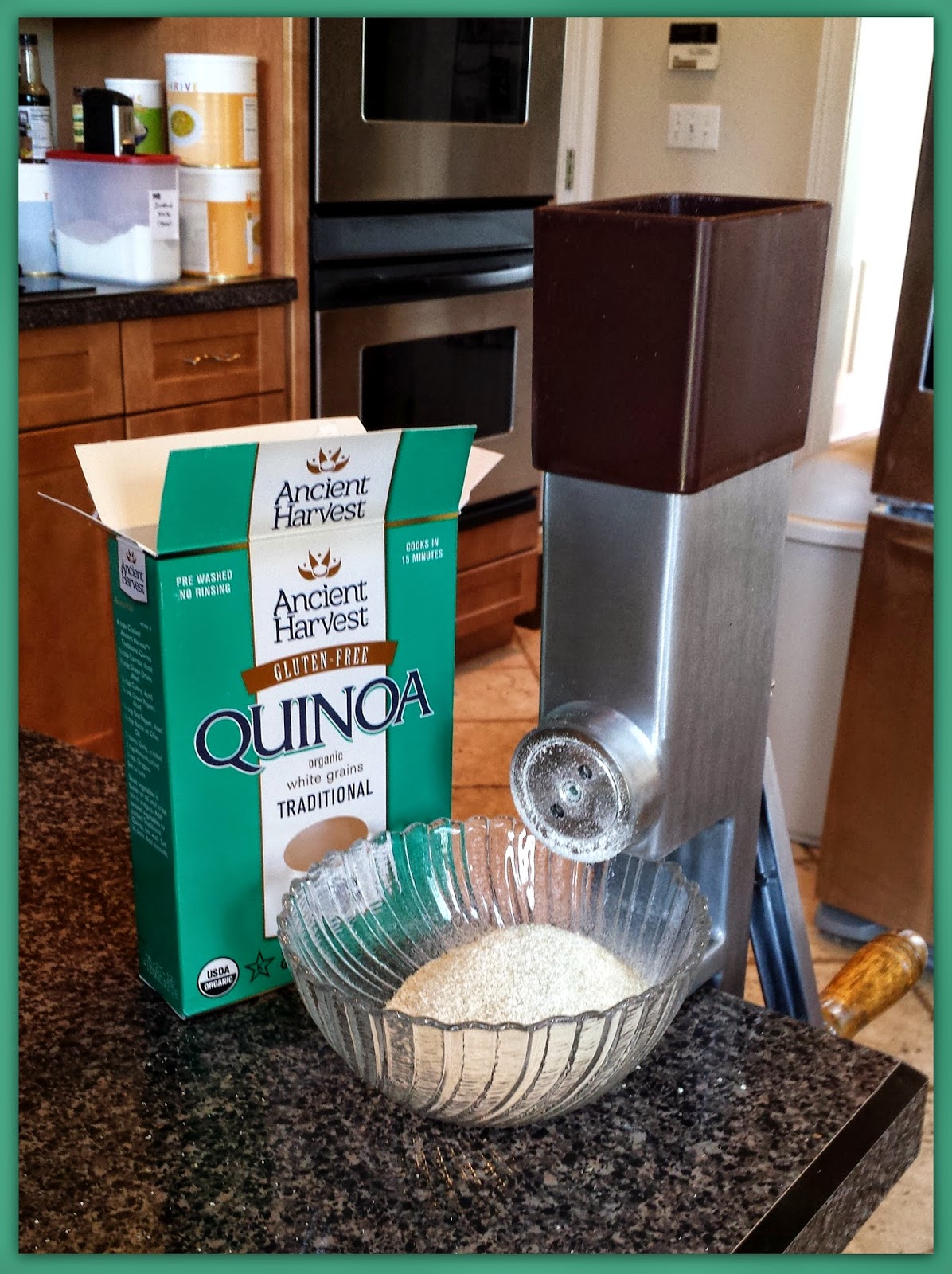 SOURCE: Eating Well Magazine.