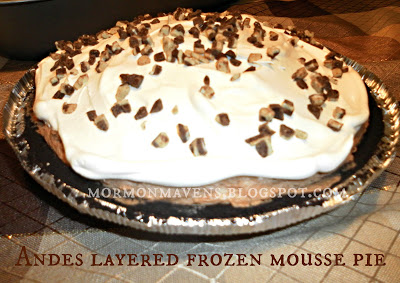 I LOVE Andes Chocolates. A few years ago I discovered their Creme de Menthe baking chips and I was so excited. On the back of the package was this recipe (you can also find it on their website http://www.tootsie.com/rec_moussepie.php)
I have made it multiple times for family gatherings around the holidays. I added the whipped cream and extra chips on top, but this pie is so delicious and rich. Definitely a family favorite.
Ingredients: 2 cups vanilla ice cream, softened
1 ready-to-use chocolate wafer crumb crust (6 oz. or 9-inch)
1-1/2 cups whipping cream, divided
2 cups Andes Crème de Menthe Chips or 2 packages 4.67 oz Andes Crème de Menthe Thins, chopped. (28 candies)
2 egg yolks
Directions:
Stir 1/2 cup of Andes Crème de Menthe chips into ice cream. Spread onto bottom of crust; freeze.
Melt remaining Andes chips with 1/2 cup whipping cream in saucepan over low heat stirring constantly. Remove from heat; stir in egg yolks. Continue heating over medium-low heat 3 to 5 minutes or until mixture begins to thicken. Do not allow to boil. Cool to room temperature.
Whip remaining 1 cup whipping cream until stiff peaks form; fold into Crème de Menthe mixture. Spoon over ice cream in crust. Freeze 4 hours or overnight.
Note: Allow pie to stand at room temperature for 10 to 15 minutes before cutting.