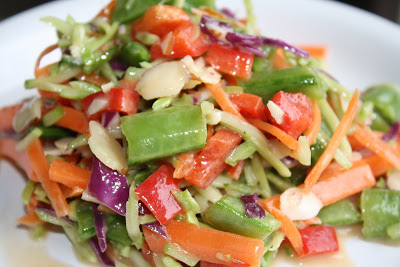 This is so refreshing and yummy. I found this recipe on pinterest and had to try it. I tweaked it a bit and it was great!
Dressing:
1/4 c honey
1/4 c vegetable oil
1/4 c unseasoned rice vinegar
1 TBSP soy sauce
1 tsp oil
1/2 TBSP peanut butter
1/2 tsp. salt
1/2 tsp hot sauce (optional)
1/2 TBSP ginger
1 large garlic clove, minced
Slaw:
4 cups prepared shredded coleslaw
2 cups prepared shredded carrots
1 red pepper,, thinly sliced into bite size pieces
1 cup pre-cooked, shelled edamame
2 med scallions, finely chopped
1/2 cup choped salted peanuts (optional)
1/2 cup loosely packed chopped fresh cilantro (optional -i did not add!)
I am not a cilantro fan, so that is the reason for the exclamation point.
Make the dressing by combining all ingredients in medum bowl. Stir until peanut butter is dissolved. Set aside.
combine all of the slaw ingredients in a large bowl. Add dressing and toss well. Let sit at least 10 minutes so vegetables have a chance to soak up the dressing. Taste and adjust seasoning if necessary…I needed to add salt to this. Chill the slaw in the fridge for at least 30 minutes before serving.