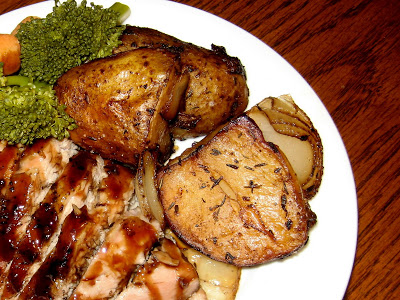 Everytime I've roasted potatoes (or any other vegetable) I've kept it very simple: olive oil, sea salt and fresh ground pepper. While that combination never fails, this is a fantastic alternative if you're wanting to try something different. I made these for the first time this week and they were FABulous! I did make a few changes, though, and will list them at the bottom. Also, this dish takes 2 hours to bake. I know that sounds long, but the end result is totally worth it!
Serves: 4
Ingredients:
12 small red potatoes
8 small whole onions
2 tablespoons butter
4 tablespoons balsamic vinegar
1 teaspoon fresh thyme leaves
sea salt and fresh ground pepper
1. Preheat oven to 375 degrees.
2. Wash potaoes thouroughly, but do not remove skin.
3. Clean and peels onions, but leave whole.
4. Place potatoes and onions in a roasting or deep dish pan.
5. Sprinkle vinegar over vegetables.
6. Dot with butter and sprinkle thyme leaves on top.
7. Season liberally with sea salt and fresh ground pepper.
8. Cover baking dish tightly with foil and bake for 2 hours, stirring every half hour.
*I did not have small red potatoes or small onions on hand. I quartered 5 medium-large Yukon potatoes and 1 1/2 large onions.
*I added a little extra balsamic and butter. I wanted a nice glaze on my veggies!
*During the last hour of baking I left the foil off. If your onions or glaze start to burn, turn down the oven temperature.
Source: Food.com recipe