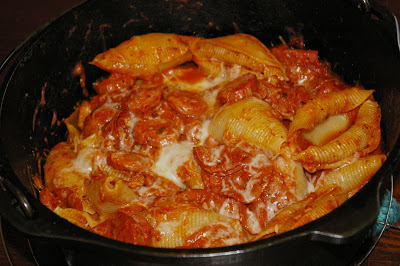 Most people would define their dutch oven as something they stub their toe on while cleaning the garage, but in our house, it's a kitchen staple. We cook in it so often I sometimes forget I live in 2011. Wether you use a dutch oven, or a glass casserole dish, this simple casserole is sure to satisfy! (This is especially true if you really ARE camping and using your dutch oven. Just remember the charcoal!)
Ingredients:
1 pkg. Jumbo shell pasta
1- 1 1/2 jars pasta sauce
1 Kielbasa sausage
1 pkg. pepperoni
1 C. Mozzarella cheese, shredded
Directions:
1. Cook pasta shells as directed on the package.
2. Preheat the oven to 350 degrees. (If using a dutch oven, preheat it in the oven as well)
3. Slice the kielbasa into 1/4 inch slices.
4. Mix all the ingredients in the casserole dish or dutch oven. Cover with foil or lid.
5. Bake at 350 degrees for 30 minutes.
Source: Family