This is a fun and easy dessert to make. It seems to defy reason! But it's not just fun; it's seriously delicious too.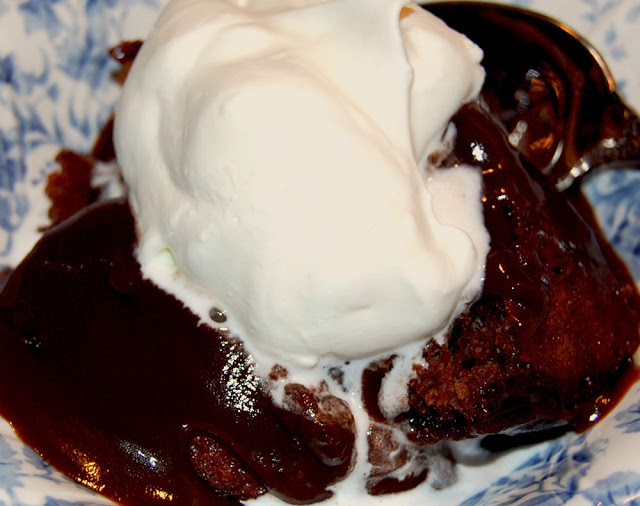 Ingredients:
1 cup flour
1/2 cup sugar
2 Tbsp. unsweetened cocoa
1 1/2 tsp. baking powder
1/2 tsp. salt
—-
1/2 cup milk
1/4 cup vegetable oil
2 tsp. vanilla
—-
1 cup sugar
1/4 cup unsweetened cocoa
1 1/2 cup boiling water
1. Preheat oven to 350 degrees. Mix first five ingredients together in medium bowl.
2. Add in milk, oil, and vanilla and mix well. Pour into UNgreased, flat 2-quart baking dish.
3. Combine last three ingredients in small bowl. Pour evenly over batter in the pan.
4. Bake for 25-30 minutes. Test only as deep as the cake with a toothpick. The whole thing will wiggle since the cake is basically sitting on a bed of yummy chocolate sauce now. Cool for 30 minutes. Serve with whipped cream.
Source: my recipe box