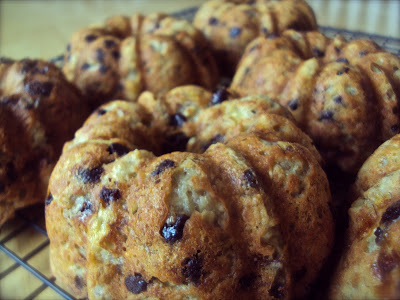 I've been looking for more recipes that don't include flour and/or dairy. By way of Pinterest, I found this one! *If you want a totally gluten-free version, simply use the gluten-free oats. =)
Ingredients:
3 Very ripe bananas, mashed
1 C Vanilla Almond Milk (I used original flavor almond milk and it was still yummy) or cow's milk
1 T Coconut Oil (optional: helps to moisten the oats a little more and make the outer layer crisp)
2 Eggs
1 T Baking Powder (Yes, Tablespoon)
3 C Old Fashioned, Quick, or Gluten-Free Oats (I know, that's a lot of options 😉
1 tsp Vanilla
As many MINI chocolate chips as you like (I used about 1/2 C)
PREHEAT OVEN TO 375* (I put that in bold type because I seem to always forget this step)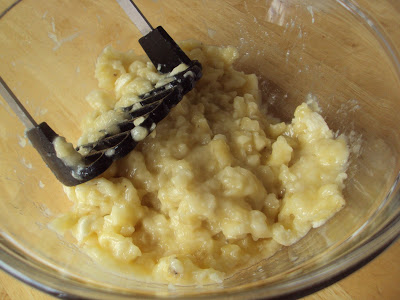 Mix together all of the ingredients except for the chocolate chips and
let the batter sit while you're preparing the muffin tins.
*This is really important in this recipe because it gives the oats a chance to release their natural thickening agent.* I was AMAZED at how these turned out looking like I had added flour.
Give your batter another quick stir as you add the chocolate chips.
Evenly divide the batter into approximately 15-18 muffins. (Or 6 mini bundt ca)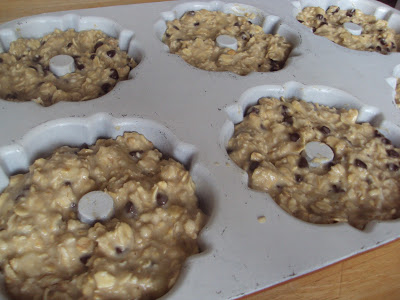 Bake 20-30 minutes. My first time making this recipe I used regular muffin tins with liners. You can attempt to eat them while they're hot, but the muffin liners may not come off very easily. You'll definitely have a better time getting them off when they're cool.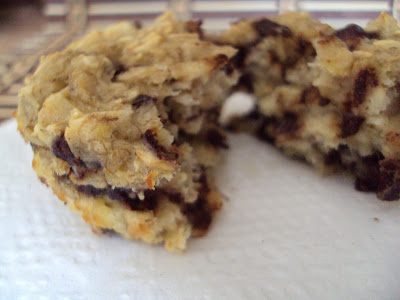 Have I mentioned what a great texture these guys have? Great texture.
*Adapted from Green Lite Bites Banana Oatmeal Cups with Chocolate Chips