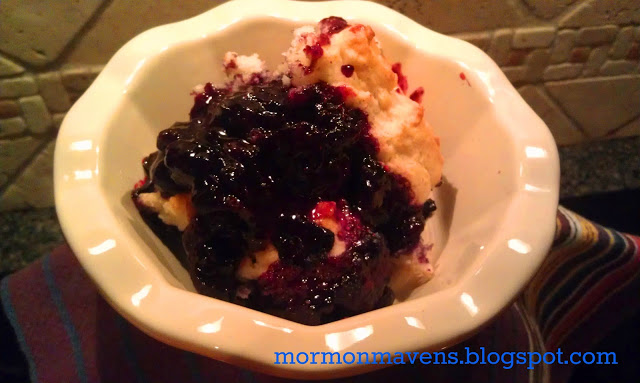 So, somebody brought home two pints of fresh blueberries and that means I had to make something with them quick before they went all mushy. You know the story. Anyway, I pulled out a few cookbooks and, since it was 10:00 in the p.m., there was no time to be really creative. Enter my trusty Betty Crocker Cookbook–you know, the orange one, circa…I have no idea, because I lost the title page with all that good info on it. But I can always find a recipe in there when I have an ingredient and don't have a clue what to make with it. Hope you enjoy this cobbler. We did…with a scoop of vanilla ice cream–can't believe I had that in the freezer!
Ingredients:
1/2 cup sugar
1 tablespoon cornstarch
4 cups fresh blueberries (or 2 1/2 cups because some of mine got eaten first)
1 teaspoon lemon juice
3 tablespoons shortening
1 cup all-purpose flour
1 tablespoon sugar
1 1/2 teaspoons baking powder
1/2 teaspoon salt
1/2 cup milk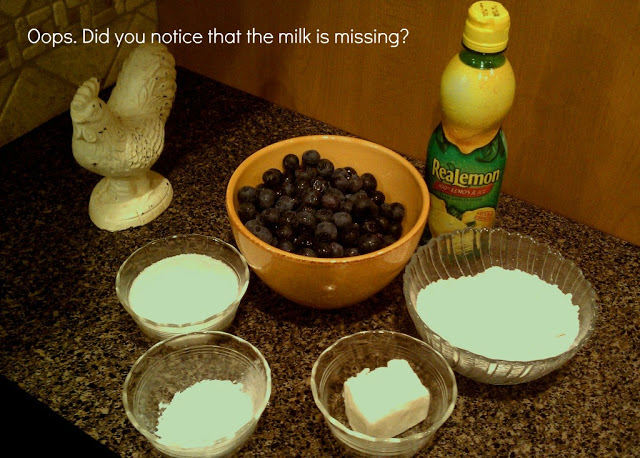 1. Heat oven to 400 degrees F. Mix 1/2 cup sugar and the cornstarch in a 2-quart saucepan. Stir in blueberries and lemon juice. I added about 1/4 to 1/2 cup water because it needed a little more juice. Cook, stirring constantly, until mixture thickens and boils. Boil and stir 1 minute.
2. Pour mixture into ungreased 2-quart casserole; keep blueberry mixture hot in oven.
3. Cut shortening into the flour, 1 tablespoon sugar, the baking powder and the salt until mixture resembles fine crumbs. Stir in milk.
4. Drop flour mixture by 6 spoonfuls onto hot blueberry mixture.
5. Bake until topping is golden brown, 25-30 minutes. Serve warm. Makes 6 servings.
Source: Betty Crocker's Cookbook, New and Revised Edition