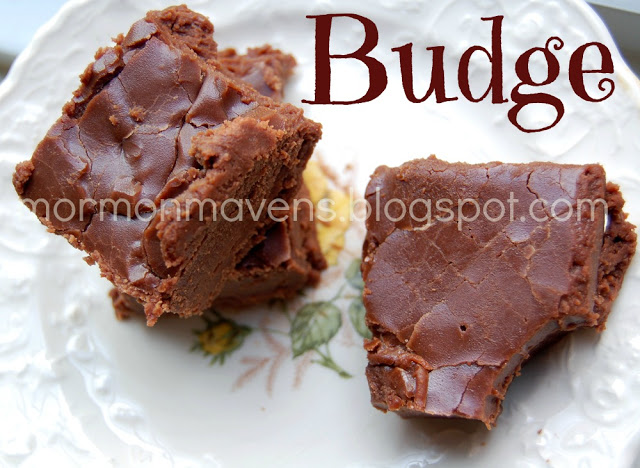 Originally posted on November 28, 2011.
This recipe comes from Worldwide Ward Cookbook by Deanna Buxton. I's original title is "Chapel Fudge" but we renamed it in honor of our toddler, King Henry V (well, Henry, but he's the fifth child and pretty much rules our kingdom).
We named it Budge in honor of Henry for two reasons: (1) when he tries to say "fudge" it comes out "budge", and (2) while it was cooling on the counter, he proceeded to dig into it with his hands, prompting an emergency bath!
Whatever it's called, it's good. I'm not normally much of a fudge eater, but I really do like this recipe and plan to use it often.
Ingredients:
4 cups sugar
1 (12 oz) can evaporated milk (1 1/3 cups)
20 large marshmallows
2 tsp. vanilla
1 cup butter
1 (12 oz) package semisweet chocolate chips
1. In a large pot, cook sugar, milk, and marshmallows on medium to medium-high heat, stirring constantly. When mixture comes to a rolling boil, set timer for 10 minutes and continue stirring constantly. (I had to reduce the heat a bit here as it start to burn just a tad.) Remove from heat and add vanilla.
2. Place butter and chocolate in a large mixer bowl. Pour the hot mixture into this bowl, over the butter and chips. Beat for 5 minutes. (I used my Kitchen Aid with the whisk attachment.)
3. Spread into lightly buttered 9×13 pan and let cool. Cut when set. (This took several hours in the fridge.)
Makes 35-40 pieces of fudge
Source: Worldwide Ward Cookbook by Deanna Buxton.