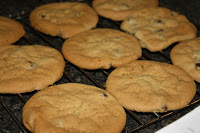 I am sure that this will not be the last chocolate chip cookie recipe posted on this site, considering how much how we all love chocolate! I have tried cookie recipe after cookie recipe and this one is my families favorites. It is similar to the Toll House recipe give or take an ingredient…but better!
1 c. Butter Flavored Crisco
3/4 c. Granulated Sugar
3/4 c. Brown Sugar
1 tsp. Vanilla Extract
2 Eggs
*Blend these ingredients until smooth.
2 1/2 c. All-Purpose Flour
1 tsp. Baking Soda
1 tsp. Salt
*Add these ingredients to the first mixture.
1/2 c. Semi-Sweet Chocolate Chips
*Add chips to mixture.
Drop by rounded tablespoons on a greased cookie sheet. Bake in preheated oven at 375 degrees for 9-12 minutes or until barely golden brown! Let rest on cookie sheet for about 3 -5 minutes. Using a spatula, place cookies onto a wire rack to cool for another 3-5 minutes. *You can add any kind of chocolate chips, or nuts, candies..anything to these!
*recipe courtesy of Georgia Hancock