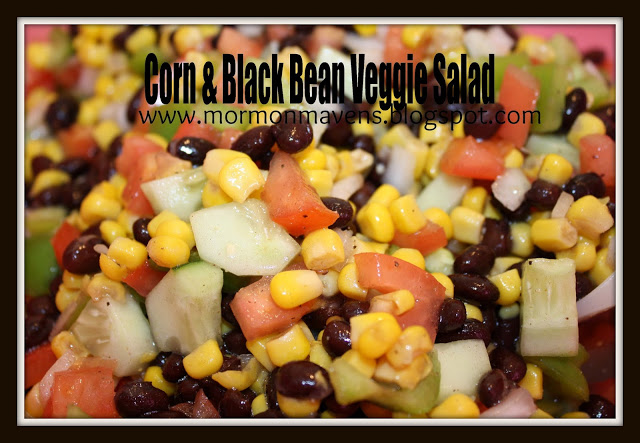 I was craving some fresh veggies and remembered that I had this recipe I wanted to try. So, I made this salad, took two kids to soccer practice, came home ready to dig into it and the two kiddos I left at home with their dad had finished off the salad! They all said they loved it and asked if I could make some more! Well, if I expected to get any of the salad I needed to make some more! LOL! This is delicious! We ate it as a side dish to pork chops, and we ate it with tortilla chips. All good!
Salad:
2 cans of black beans, drained and rinsed
2 cans of corn, drained and rinsed
1 large tomato, chopped
1 small onion, yellow or red, diced fine
1 large green bell pepper, seeded and chopped
1 -2 large cucumbers, peeled and chopped
Dressing:
2 garlic cloves, minced
4 TBSP. white granulated sugar
4 TBSP. apple cider vinegar
4 TBSP. canola oil
juice of 1 lime
1/2 tsp. salt
1/2 tsp. black pepper
3/4tsp. cumin powder
In a large bowl, add all of the Salad ingredients and stir well.
In a separate bowl, add all of the Dressing ingredients and whisk well until the sugar is mostly dissolved.
Pour the dressing over the salad and stir really well.
Cover and place in the refrigerator for 30 minutes at least.
Serve as a side dish or with tortilla chips.
Adapted from a recipe in Taste of Home.