One of the things I love best about summer is the fresh produce, especially fresh tomatoes. Roma are my favorite for just about everything except sandwiches. In honor of these delectable divas, I'm sharing two of my favorite 'tomato' recipes with you today.
2 cucumbers, washed and cut into thirds or fourths
2 Tbsp dry onion soup mix*
1 cup lite mayonnaise
2 tsp lemon juice
Salt and pepper, to taste
Fresh tomatoes, sliced or cut into large chunks
1. In a blender or food processor, shred the unpeeled cucumbers.
2. Mix with onion soup mix, mayo and lemon juice.
3. Refrigerate for at least two hours (for best taste, allow it to mesh overnight).
4. Serve over fresh tomatoes.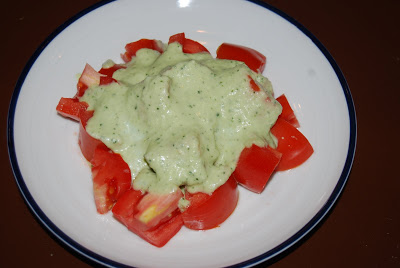 *This is a very mild dressing. If you prefer a stronger flavor (as my husband does), use the whole (~4 Tbsp) packet of dry onion mix and increase the amount of salt and pepper.
Adapted from Southern Living