This is sooo good! I love the dill and lemon flavors in this. The key to this recipe is fresh ingredients!
2 (7oz) containers Greek Yogurt
1 Hothouse Cucumber, peeled and seeded
1/4 c. Sour Cream
2 TBS. freshly squeezed Lemon Juice
1 TBS. minced fresh Dill
1/1/2 tsp. minced Garlic
2 tsp. Kosher Salt
1/2 tsp. freshly ground Black Pepper
toasted Pita Crisps, recipe follows
Place the yogurt in a medium bowl, and grate the cucumber on a box grater.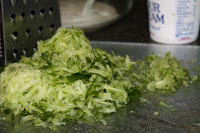 Squeeze the cucumber with your hands to remove some of the liquid. Add the squeezed cucumber to the yogurt along with the sour cream, lemon juice, vinegar, dill, garlic, salt and pepper and stir. Serve with toasted pita crisps.
Toasted Pita Crisps:
8 pita breads
Good Olive Oil
*Heat your grill. Brush the pita with olive oil and heat on both sides until toasted. Slice pita into triangles and serve.
*I use my "George Foreman" grill for this recipe and it is perfect! Delicous!
Yeilds: 8 servings
Recipe: Ina Garten